Top 8 Romantic Destinations in Italy
Italy counts some of the most romantic destinations in Europe. Here are some of our suggestions for a romantic Valentine's escape in Italy. Historic cities with romantic landmarks, picturesque seaside towns, a beautiful island, enchanting lake towns, or a cozy chalet-hotel in a snowy mountain landscape.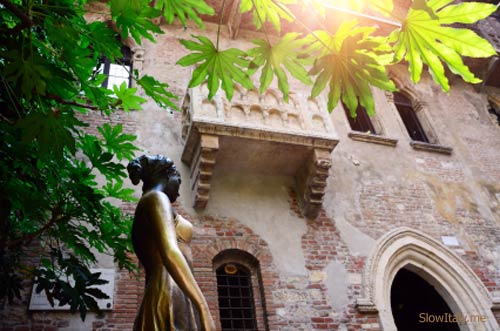 1. Verona
Verona is the city of love par excellence. It is apparently no coincidence that Romeo and Juliet was set in the beautiful medieval city on the Adige river. Although William Shakespeare never traveled to Verona himself, he gave Verona a romantic legacy that can be perceived throughout the city even today. Loving couples and romantics from around the world pose on the balcony of the House of Juliet and leave messages on Juliet's wall (which became even more famous thanks to the movie Letters to Juliet) In the courtyard of what is supposedly the Capulet's house, there is also a bronze statue of Juliet with its own symbolic meaning. It is said that if someone strokes the breast of Juliet, then that person will be lucky in love.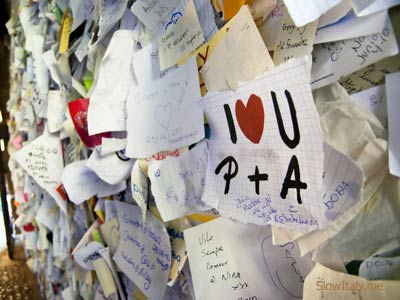 2. Venice
As Welsh poet Arthur Symons observed: "A realist, in Venice, would become a romantic, by mere faithfulness to what he saw before him."  The Serenissima's magnificent palaces, winding canals and gondolas make Venice one of the most beautiful and romantic cities in Europe. But, just like love itself, Venice can also be mysterious and enigmatic. The vaporous luminosity of the lagoon and narrow back streets confer an aura of secrecy and mystery upon the city. The elements of romanticism and secrecy can be found, as well, in the origins of the Carnival of Venice, which started as a custom of concealing one's identity and social status behind a mask during celebrations or any situation that required that a person's moral reputation be protected. Not surprisingly, Venice was also famous for its adventurers, seducers and courtesans, such as Casanova and Veronica Franco.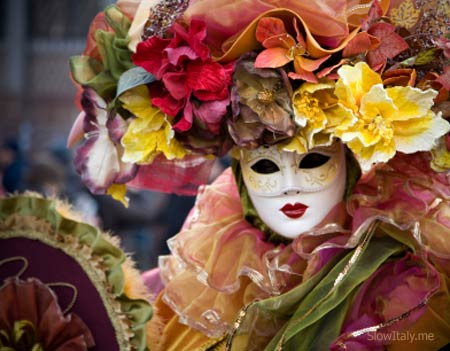 3. Colfosco
There is nothing like a cosy mountain cottage, an open fire, pretty countryside for gentle strolls and delicious food for a romantic getaway. Colfosco is a pretty mountain village in Alta Badia, still relatively preserved from mass tourism. If you are looking for something really special (and if you can afford it), we recommend, Hotel Cappella. This hotel is by far the best one in the entire Val Badia. So, if you enjoy being pampered in a beautiful, top class hotel, which has kept close to the true meaning of authentic hospitality and offers a totally cozy and lovely atmosphere combined with divine food, then this is a sure bet. A place where you really feel at home and very spoiled at the same time. The ski season here usually lasts until the beginning of April.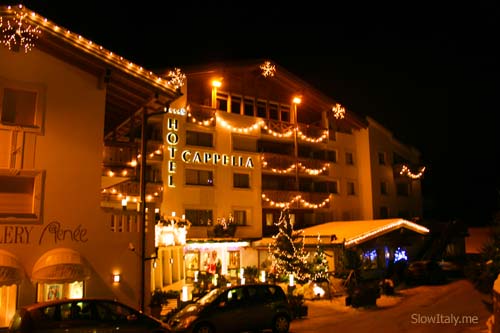 4. Florence
Many of  Florence's landmarks are the ideal stage for a romantic, hand in hand walk: Piazza del Duomo, Piazza della Signora and Piazzale Michelangelo. Ponte Vecchio and Forte Belvedere have become the must-be romantic places among lovers in Florence.
Recently more than 5,500 love padlocks affixed to the Ponte Vecchio bridge were removed by the city council. Love padlocks are a custom by which couples attach padlocks to a building, statue or public fence and then throw away the keys to symbolize their everlasting love. A love that won't be broken once the padlock is closed and the key thrown into the Arno River. The ritual of affixing love padlocks apparently started in Rome, with Ponte Milvio and can be attributed to the book I Want You by Italian author Federico Moccia, that was later made into a film where the protagonists do the same. However, please don't emulate this ritual…it's a sad view to see all these beautiful landmarks transfigured by a blanket of padlocks….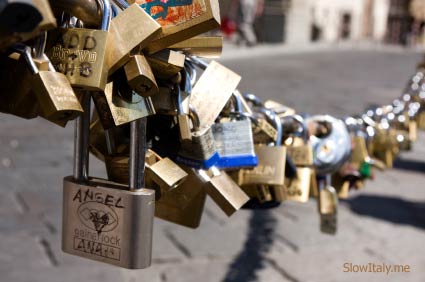 5. Rome
Rome has a similar ritual of affixing love padlocks to the bridge Ponte Milvio. Apparently this custom can be attributed to the book I Want You by Italian author Federico Moccia. The book was later adapted into the film Ho voglia di te. Another romantic spot is the breathtaking view from Gianicolo. Guaranteed full of atmosphere ! If you want to make sure to come back to Rome with your beloved one, throw a coin in the Trevi fountain. Legend has it that if you throw a coin in the Trevi fountain you are sure to come back to Rome. So, if you want to make sure that your love will last at least until your next return to Rome, throw the coin by joining your hands together….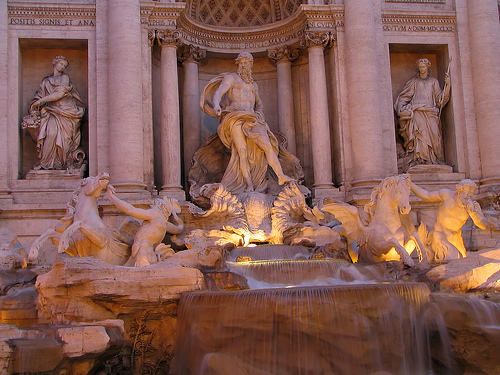 6. Capri
Spring begins towards the end of February on Capri, an excellent time to visit the enchanting island while avoiding the flocks of tourists. Few restaurants and shops open, but all to space to yourselves. The Mediterranean flavors and stunning views, all add to the romance.
See also: the three poets' islands, Capri, Ischia and Procida
7. Lake Como with Bellagio, Varenna and Tremezzo
The next two destinations are a little off-season in February, but why not plan the trip on Valentine's day and go there later in the season? Bellagio, Varenna and most of the little towns around Lake Como are best visited from mid April to the beginning of November. Out of season you will find most restaurants and shops closed, but more importantly, you will miss the opportunity of seeing Lake Como's beautiful gardens in full bloom. In Varenna, hotel Villa Cipressi provides a wonderful atmosphere with a beautiful, steeped garden and truly stunning view across Lake Como to the Bellagio area.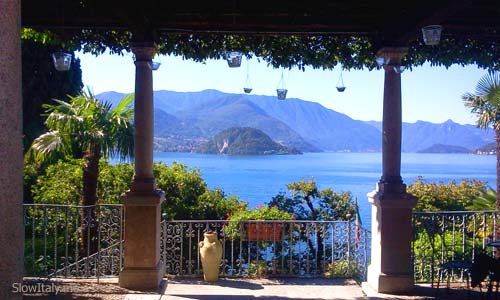 See also: 10 things we love about Varenna, Lake Como
8. Sorrento and the Amalfi coast
Sorrento is the setting of one of Italy's most romantic songs, Caruso. This song tells the romanticized story of  one of the great legends of Italian Lyric Opera Enrico Caruso who fell deeply in love with one of his pupils when he was already an old man. The fact that he was one of the greatest and sought-after singers during early 20th century and nevertheless lived a very difficult and rather unhappy life only add to the dark romanticism of the song.  The town forms an excellent base to get to Capri and to the little towns of the Amalfi coast.
"Here where the sea is glittering,
and a strong wind blows,
on an old terrace overlooking the Gulf of Sorrento,
a man holds a girl in his arms
after she's been crying.
Then he clears his throat and resumes singing his song."
The entire Amalfi coast and more precisely Positano and Praiano, two of the 13 small towns perched along the steep cliffs of the peninsula between the Gulf of Naples and the Gulf of Salerno, all offer breath-taking sceneries for an enchanted dinner on a terrace overlooking the bay.