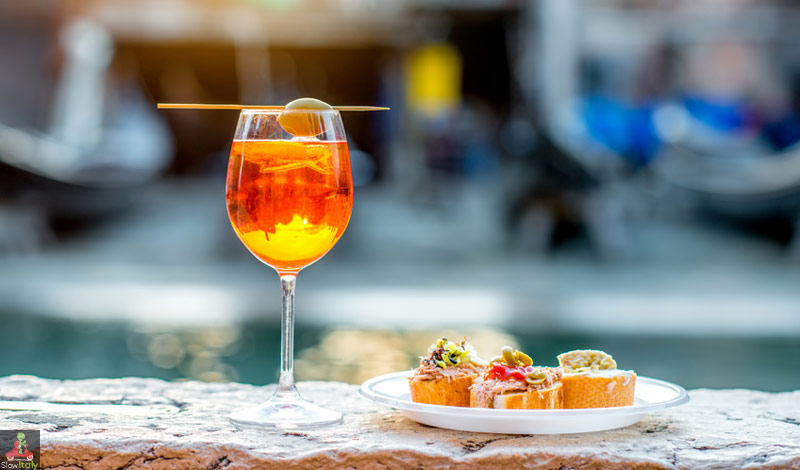 .
More than just a drink, the aperitivo is a moment of the day, a recurrent feature of the daily or weekly life in Italy. Quintessential of the Italian lifestyle, the aperitif time is a friendly moment spent in good company to chill over a drink and a snack after work or during the weekend.
Typically the aperitivo is accompanied by stuzzichini, a variety of delicious bites that are either served together with your drink or that you can choose from a buffet. For a bit more than the price of a drink, the aperitif moment can turn into an apericena, which may replace your evening meal altogether. Even when eating out, the aperitif is usually consumed at a bar, rather than as an appetite-opening drink at a restaurant.
Unsurprisingly, many brands of aperitifs have been invented in Italy. Famous Italian brands of Italian aperitifs include Martini, Cinzano, Campari and Aperol.
Below follows a list of the most popular aperitifs and cocktails consumed in Italy.
Bellini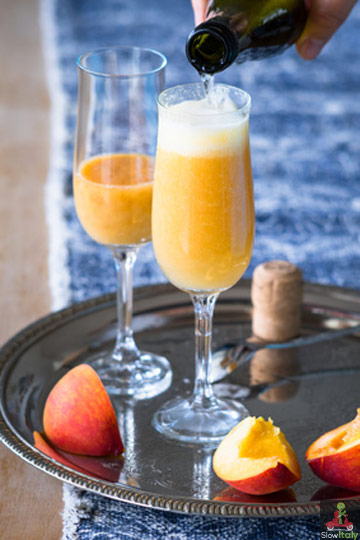 Bellini, a glamorous long-drink cocktail invented by Giuseppe Cipriani, bartender at Harry's bar, Venice in 1948, and made of pureed peach and white sparkling wine or prosecco (purists prefer not to use champagne). As a reference, the first Bellini ever made was composed with Conegliano prosecco from the Valdobbiadene Wine region.
As the Bellini was invented at the time of a retrospective exhibition of Giovanni Bellini, Giuseppe Cipriani decided to name his invention after the artist. Another story has it that the refreshing invention was named after the vivid paintings with pink hues by Giovanni Bellini.
Ingredients:
5cl of freshly squeezed peaches or high quality peach nectar
10cl of prosecco
The drink is prepared directly into the flute or prosecco glass in which it is being served. A few drops of raspberry syrup may be added to cheer up the natural color of the peaches, if necessary.
The popular cocktail, Hemingway's favorite aperitif when he stayed in Venice, has given rise to many different versions: the Rossini (pureed strawberries), Tintoretto (pomegranate, see further), Tiziano (fox grape) and Puccini (5 segments of mandarines).
Note: most of these cocktails were traditionally seasonal drinks as they are supposed to be made with fresh fruits. For the same reason they are preferably prepared directly into the glass in which they will be served as the fresh fruit will otherwise oxidize and lose its bright color. However, if fresh fruits are not available, high quality fruit nectar can be used.
Hugo
The Hugo or Hugo Spritz is a low-alcohol cocktail made of prosecco, sambucus (elderberry) syrup, seltz water and fresh mint leaves. It was invented by bartender Roland Gruber from Naturno, in Alto Adige. In his original recipe Gruber used melissa syrup, but replaced it later with sambucus suryp because it was more readily available.
Ingredients:
6 cl of prosecco
6 cl of seltz
3 cl of sambucus (elderberry) syrup
fresh mint leaves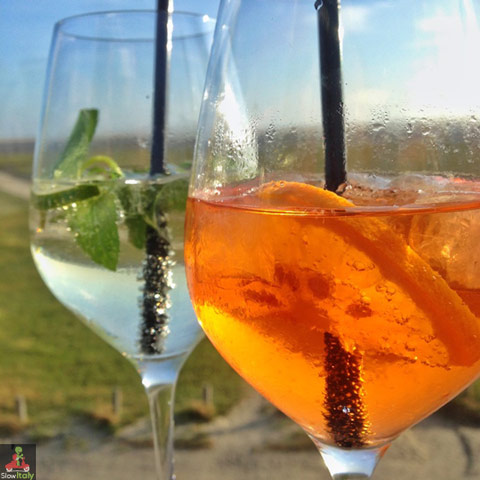 Spritz
Spritz, also known as Spritz Trevigiano or Aperol Spritz, is an alcoholic drink originating in the area historically known as TriVeneto, corresponding to today's Veneto region and Friuli (Venezia Euganea), Venezia Giulia and Trentino-Alto Adige (Venezia Tridentina) origin.
A variant is the Spritz Campari, where the Aperol is replaced by Campari. The latter is also known as Spritz Bitter, as opposed to the Aperol Spritz or Spritz Dolce.
Ingredients of the typical Venetian spritz:
4/10 of white wine or Prosecco
3/10 bitter (originally Aperol, but it can also be Select, Cynar or Campari)
3/10 of soda or seltz water
And a twist of lemon or an olive
Cynar Spritz
The Cynar Spritz is a rarer, dark-amber colored version of the Spritz, made with the cynarine-based liqueur, Cynar. Cynarine is a constituent of the artichoke. Apart from cynarine, the liqueur also includes twelve other herbs and plants.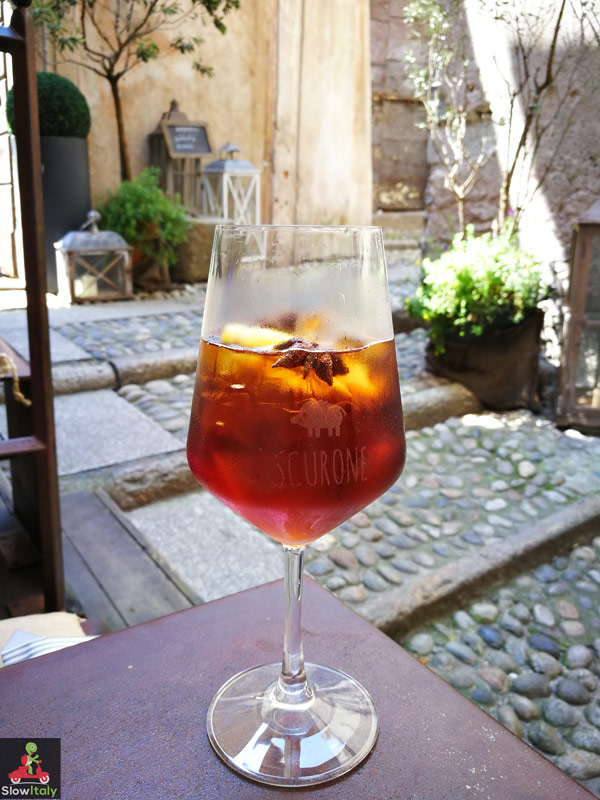 The resulting cocktail combines the dry and bitter taste of the liqueur, but with the refreshing fruity notes of prosecco.
Ingredients:
4/10 of white wine or Prosecco
3/10 Cynar
3/10 of soda or seltz water
And a twist of lemon, orange, an olive, or star anise for decoration and an anise undertone
Spritz P31 or Green Spritz
A newcomer on the cocktail scene, this aperitivo green as it is called in Italy, originated in Padua in 2017. It was created by Caffè Pedrocchi with their signature P31, a new, green (in all senses of the term) aperitif made of at least 20 different medicinal and aromatic herbs, among which chamomile, linden flowers, sweet orange and vanilla, the spicy notes of cloves, ginger and cinnamon, the freshness of coriander, marjoram and wormwood, combined with the strong taste of rhubarb, tamarind and gentian.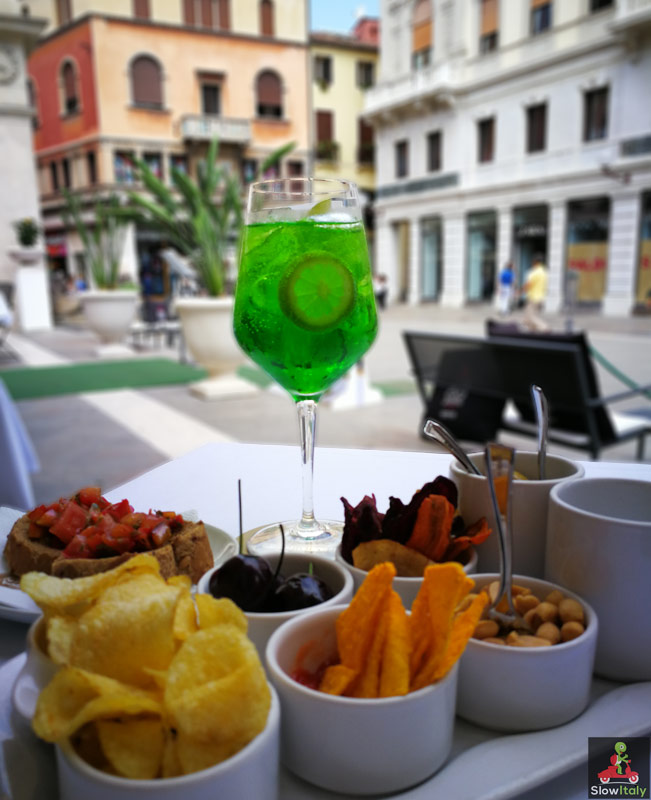 Ingredients:
Prosecco
P31 Aperitivo Green
seltz water
in 1:1:1 proportions
served on ice and lime
Negroni
Negroni, a popular Italian cocktail made of equal parts of Gin, Bitter Campari and Red Martini (purists prefer 1:1:0.75 proportions of each respectively), shaken with ice and strained into a cocktail glass.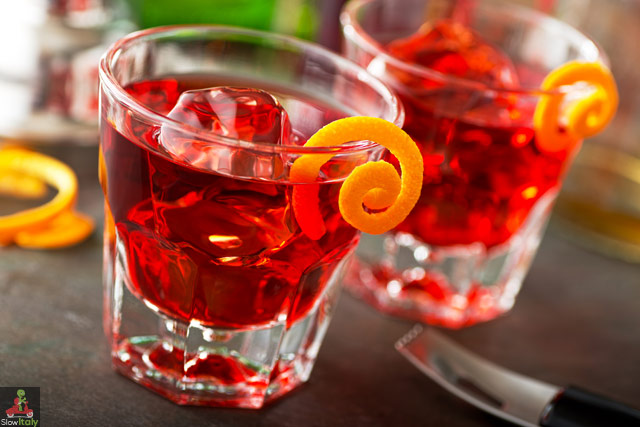 The glass is garnished with a "burnt" orange twist (the typical campari garnish).
The twist is burnt by holding a flame above the glass, squeezing the orange peel firmly which causes the oils of the peel to be released by the flames and adds a burnt orange flavor to the drink.
According to a popular story, the drink was invented by Count Camillo Negroni, at Caffè Casoni, in Florence in 1919, but the true origin remains uncertain. The Count presumably wanted to stiffen up his favorite drink, the Americano, by adding some Gin to it. See: Top 9 historic cafés in Florence.
Ingredients:
Gin, Bitter Campari and Red Martini in 1:1:1 proportions
(purists prefer 1:1:0.75 proportions)
shaken with ice
Americano
Despite its name, the Americano a typical Italian cocktail. It is the ancestor of the Negroni, made with the same products of Italian origin: bitter Campari, red Vermouth and seltz (carbonated water, different from sparkling water), but without gin.
Its origin is uncertain. Legend has it that the cocktail was invented in in Milan in Gaspare Campari's bar in 1860 but that it was nicknamed "americano" only in the 1930s following the victory of the Italian boxer Primo Carnera at Madison Square Garden Bowl where he became World Heavyweight Champion.
The Americano is also one of James Bond's favorite drinks, as seen in From a View to Kill.
Ingredients:
3 cl of Campari
3 cl of red Vermouth
Seltz water (not soda water)
Camparinette
A variation of the Negroni is the Camparinette which consists of two parts of Gin to one part each of Martini and Campari. Campari may be replaced by Aperol for a stronger taste.
Ingredients:
Gin
Bitter Campari/Aperol
Red Martini
(in 2:1:1 proportions)
Sbagliato
A lighter (with lower alcohol content) variation of the Negroni, is the Negroni sbagliato, short sbagliato, in which the gin is substituted with spumante brut. The drink is said to have been invented by bartender Mirko Stocchetto in Milan in the 1960s.
Ingredients:
Spumante brut
Bitter Campari
Red Martini
(in 1:1:1 proportions)
Tintoretto
The Tintoretto is a variant of the Bellini made with freshly squeezed pomegranate juice.  Because of its color and delicate taste, this cocktail makes a perfect Valentine's Day drink. It is named after the Venetian painter Tintoretto.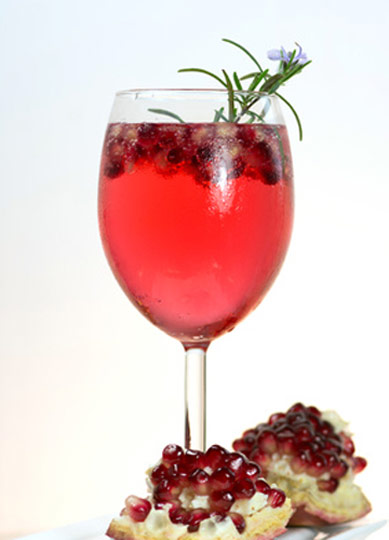 Ingredients:
1/3 of freshly squeezed pomegranate
2/3 chilled prosecco
A variant:
7/20 freshly squeezed pomegranate
1/20 sugar syrup
12/20 prosecco brut
Garibaldi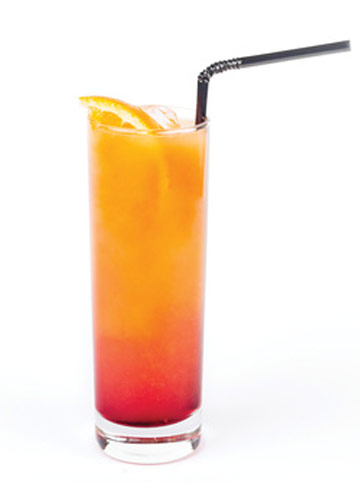 This low-alcohol cocktail, consisting of  3/10 of bitter Campari and 7/10 of orange juice, was invented in the sixties.
It was created in memory of the hero of the Due Mondi, the orange juice standing for the landing in Sicily and the red colored Campari base for the famous red Garibaldi shirts (giubbe rosse).
Ingredients:
3/10 of bitter Campari
7/10 of fresh orange juice
Martini Cocktail
The Martini cocktail was invented in 1910 by an Italian originary of Arma di Taggia, in Liguria, who worked as bartender at the Knickerbocker Hotel in New York and happened to go by the name of Martini, but was completely unrelated to the Martini family.
A lot of variations exists, but the original recipe of the Martini cocktail consists of:
8/10 of gin
2/10 of vermouth dry
garnished with olives.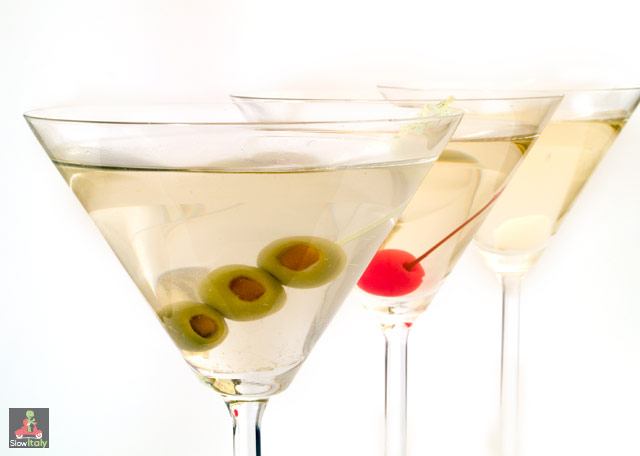 Perfect Martini
8/10 of gin
1/10 of dry vermouth
1/10 of sweet red vermouth
Martini Vodka
8/10 of vodka
2/10 of vermouth dry
Sweet Martini
8/10 of gin
2/10 sweet red vermouth
garnished with a cherry
Medium martini
is made with both dry and sweet martini and can be garnished with cocktail onion, or lemon twist.
8/10 of gin
1/10 of sweet red vermouth
1/10 of dry vermouth
Messicano
The messicano cocktail consists of Gin and Italian liqueurs. It is a sweet and extremely aromatic drink that is best consumed very chilled.
Ingredients:
2/6 Gin
2/6 Galliano (a sweet herbal liqueur)
1/6 Amaretto
1/6 Granatina (pomegranate syrup), strawberry syrup or grenadine
Shaken and served up in a tumbler glass and filled up with soda.
Garnished with a slice of lemon
Linno Linno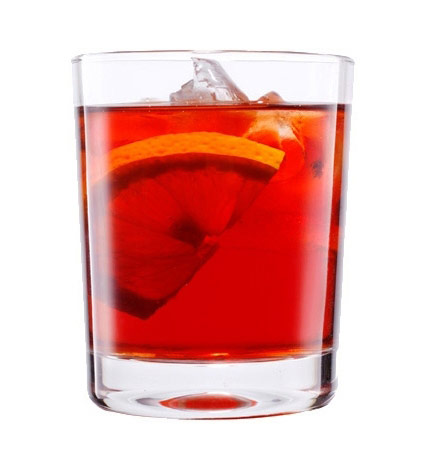 A refreshing drink made of Vodka and Crodino that is mostly found in the Western part of Sicily.
It originated in Palermo towards the end of the 80s and is particularly popular among bikers. The name "Linno Linno" (meaning "clean clean" refers to the way this seemingly "innocent" drink gets people drunk without their realizing it. The combination of the orange-reddish color and reassuring taste of the alcohol-free Crodino, and the fairly heavy content of alcohol of the Vodka makes it rather easy to drink a few in a row. Add to that the fact that there are no standard proportions for the Linno Linno (the Vodka part maybe be anywhere from 25% to 50%), so alchohol content greatly vary from one drink to the next and maybe anywhere between 10° to 20°.
Ingredients:
Vodka
Crodino
in varying proportions according to the barista.
Served on the rocks in a tumbler glass.
Pirlo
A Brescian variant of Spritz made with still white wine and sparkling water, or sparkling white wine (never presecco), and Campari, without ice or orange twist.
The drink was probably named in honor of the soccer player Andrea Pirlo, who happens to be from Brescia.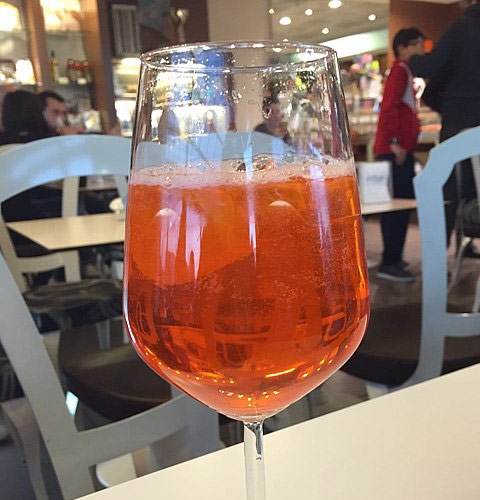 Ingredients:
still white wine and sparkling water/sparkling white wine
(never presecco)
Campari
(without ice or orange twist)
Vieni Avanti Crodino
A signature cocktail invented by the barista of Osteria Bell'Italia in Cisternino. The name of the drink is a wordplay on Vieni Avanti Cretino (literally, Come Forwrad, Idiot), a 1982 comedy film directed by Luciano Salce.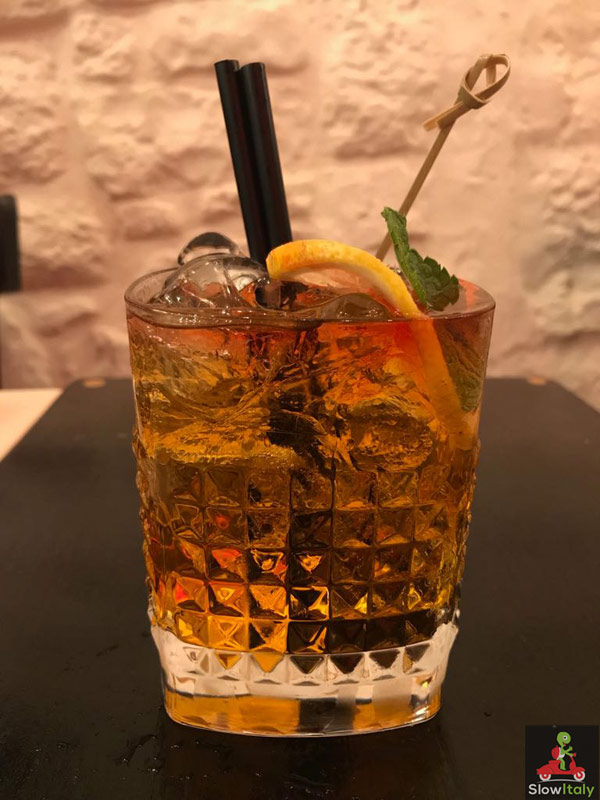 Ingredients:
Biancosarti
Crodino
Peychaux bitter
a little lemon
Prosecco
Can be used as a component for a cocktail, but makes also a great aperitif in its own right.
The quality of Prosecco is protected under DOC and DOCG labels. Prosecco DOC and DOCG can only be produced in a few provinces of the Veneto region and Friuli Venezia Giulia regions (for the Prosecco DOCG only in the Treviso province actually).
Unlike champagne, quality prosecco is not necessarily served in a flute. There is actually a new trend to serve the bubbly drink in a fairly large and delicate wine glass.
Expanded and updated version of the article originally published on www.yourguidetoitaly.com in March, 2008, redirected to Slow Italy.
For a complete guide to Italian drinks, see also: Italian after-dinner drinks, amari and liquors
See also: