Music and dance have always formed an important part of Italian culture and folklore. Italian music takes different forms ranging from opera, to folk music over popular music and religious music.
Italy's most famous composers include the Renaissance composers Palestrina and Monteverdi, the Baroque composers Alessandro Scarlatti, Corelli and Vivaldi the Classical composers Paganini and Rossini, and the Romantic composers Verdi and Puccini. Modern Italian composers such as Berio and Nono proved significant in the development of experimental and electronic music.
Italy has played a significant role in the history of European music. Many music instruments, such as the violin and piano, were invented in Italy. The musical scale, the art of Opera and many music terms, such as sonnet, concert, quartet (see: Italian loanwords in English), were also born in Italy and many of the existing European classical music forms can trace their roots back to innovations of sixteenth and seventeenth century Italian music (such as the symphony, concerto, and sonata). These innovations in terms of harmony and notation have strongly influenced European classical music and enabled the development of opera in the late 1500s.
Italian popular music finds its source both in native and imported music styles. Neapolitan song, canzone Napoletana, and the Italian cantautori (singer-songwriter), alongside imported genres like jazz, pop, rock and hip hop have contributed to a very eclectic body of Italian music. However, Italian folk music also forms an important part of the country's musical heritage, offering a diverse array of regional styles, instruments and locally colored languages. Folk music has always been a way to express local idenity and address cultural, political and social issues.
Religious music
The scale was invented as early as the end of the 10th century, by a Benedictine monk, Guido of Arezzo. He named the notes using the initial syllables of the first six line of John the Baptist's hymn.
Ut queant laxis
Resonare fibris
Mira gestorum
Famuli tuorum
Solve polluti
Labii reatum Sancte Johannes
The "Ut" was changed to "Do" in the 1600s and the "Si" was formed by the initials of Sancte Johannes.
One of the most prolific composers of religious music was Giovanni Pierluigi da Palestrina (c. 1525-1594), who marked the golden age of polyphony.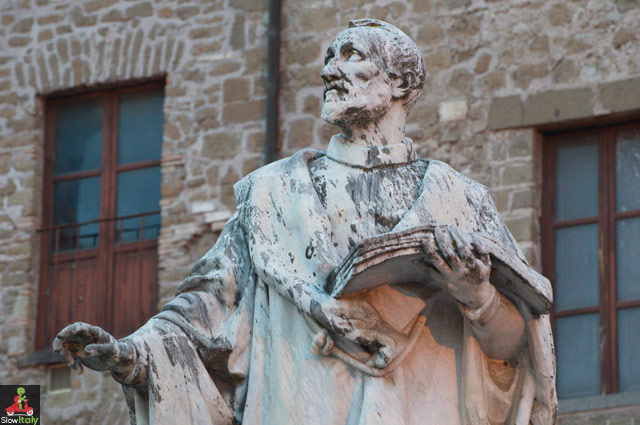 Trovatori and Folk music
It is with the troubadours that the shift occurred from a long tradition of writing music in Latin to writing music in the local language. The music form originated in France, but later spread to 12th century Italy, where they were called trovatori. This development extended to the lyrics of popular songs and forms such as the madrigal, meaning "in the mother tongue".
Approximately at this time, Italian flagellants developed the Italian folk hymns known as spiritual laude. Around 1335, the Rossi Codex, the earliest extant collection of Italian secular polyphony, included examples of indigenous Italian genres of the Trecento including early madrigals, cacce, and ballate. The early madrigal was simpler than the more well-known later madrigals, usually consisting of tercets arranged polyphonically for two voices, with a refrain called a ritornello. The Rossi Codex included music by Jacopo da Bologna, the first famous Trecento composer.
Italian folk music exhibits no homogenous character, but reflects the history, language and ethnic composition of specific areas of Italy. It is a perfect reflection of Italy's geographic position and the historic dominance of small city states.
Italian folk styles are as diverse as the regional cultures of Italy themselves. They include monophonic, polyphonic, and responsorial song (a song in which the leader of the choir or group sings a line or verse after which the group responds), choral, instrumental and vocal music, as well as other styles. While, in some European countries, folk singing styles became a national symbol, in Italy it was never the case. Italian folk musicians use the dialect or language of their own regional tradition. This is not to be seen as a rejection of the standard Italian language, it is simply what folk music is about: local color and identity.
Polyphonic song forms and choral singing are principally found in northern Italy, while south of Naples, solo singing is more common, with the exception of the geographically more isolated Sicily and Sardinia, which are very polyphonic. In the rest of southern Italy polyphony is seldom choral and groups usually use unison singing in two or three parts carried by a single performer. Northern ballad-singing is syllabic, with a strict tempo and intelligible lyrics, while southern styles use a rubato tempo, nasal timbre and a strained, tense vocal style.
Classical music
Italy has long been a focal point for European classical music, and by the beginning of the 20th century, Italian classical music had forged a distinct national sound that was decidedly Romantic and melodic.
Italian classical music remained uninfluenced by the "German harmonic juggernaut", i.e. the dense harmonies of Richard Wagner, Gustav Mahler and Richard Strauss. Italian music also had little in common with the French reaction to that German music, the impressionism of Claude Debussy, for example, in which melodic development is largely abandoned for the creation of mood and atmosphere through the sounds of individual chords.
One of Italy's major contributors to classical music is Antonio Vivaldi, one of the greatest Baroque composers widely credited as having created concerto music. His most famous piece is Four Seasons is still played across the world today.
In the 20th century classical music changed greatly, not only in Italy, but also at European level. New music abandoned much of the historical, nationally developed schools of harmony and melody in favor of experimental music, atonality, minimalism and electronic music. Important composers of the period include Ferruccio Busoni, Alfredo Casella, Bruno Maderna, Luciano Berio, Luigi Nono, Salvatore Sciarrino, Luigi Dallapiccola, Carlo Jachino, Gian Carlo Menotti, Jacopo Napoli, and Goffredo Petrassi.
Opera
As the birth place of opera, Italy counts many magnificent, historic opera houses, many of which are still in operation today.
Broadly speaking, Italian opera can be divided into two periods, the baroque and the romantic. The earliest composition that can be considered opera as we conceive it today, is Dafne written by Jacopo Peri in 1597.
See: Italian opera
Neapolitan music
The influence of Naples in the history of musical traditions has spread well beyond the boundaries of Italy. The first music conservatories were created in Naples in the 16th century and the city's Opera House San Carlo is also the world-wide oldest opera house in continuous operation.
The annual Neapolitan song writing competition, held during the yearly Festival of Piedigrotta in Naples, raised the Neapolitan popular song (canzone napoletana) to a formal art form. The winner of the first festival was a song entitled Te voglio bene assaje, composed by the opera composer, Gaetano Donizetti. In the late 1800s and early 1900s, emigrants from Naples and southern Naples took their popular Neapolitan songs with them abroad, where these gained further popularity. 'O sole mio dating from 1898, has became one of the most famous songs in the world and has been translated in many languages. Elvis Presley interpreted his own version of the song entitled It's Now or Never.
Another Neapolitan song had a similarly unexpected impact on musical traditions abroad, becoming the
hymn of a major feast day
in Scandinavian countries. The 19th century song
Santa Lucia, 
adapted with Swedish lyrics, became the carol traditionally sung in Sweden on December 13 to celebrate the eponymous Saint. See:
Santa Lucia
.
Other songs from this period were often mistaken for traditional folk songs by foreign composers, who further popularized songs which initially had only a local scope. Funiculì Funiculà, for example, was originally composed in 1880 to commemorate the opening of the first funicular cable car on Mount Vesuvius, but was popularized by the composers Richard Strauss and Rimsky-Korsakov, and more recently by Disney and Il Volo, which proves how enduring, genre-crossing and universal Neapolitan songs can be.
Instrumental music
A few composers started writing instrumental music, rather than opera. One of these group of composers were called the generazione dell'ottanta (generation of 1880), including Franco Alfano, Alfredo Casella, Gian Francesco Malipiero, Ildebrando Pizzetti, and Ottorino Respighi. Even opera composers, such as Giuseppe Verdi, occasionally worked in these forms. His String Quartet in E minor, is such an example. Even Donizetti, whose name is identified with the beginnings of Italian lyric opera, wrote 18 string quartets.
In the early 20th century, instrumental music began growing in importance. The process that started around 1904 with Giuseppe Martucci's Second Symphony, a work that Malipiero called "the starting point of the renascence of non-operatic Italian music." Several early composers from this era, such as Leone Sinigaglia, used native folk traditions. Members of this generation were the dominant figures in Italian music after Puccini's death in 1924. New organizations arose to promote Italian music, such as the Venice Festival of Contemporary Music and the Maggio Musicale Fiorentino. Italians, however, tended to prefer more traditional pieces and established standards, and only a limited audience sought new styles of experimental classical music.
Modern Pop
Among the best-known Italian pop musicians of the last few decades are Domenico Modugno (with his famous song Volare), Mina, Claudio Villa, Adriano Celentano, Lucio Battisti, De André and, more recently, Zucchero, Lucio Dalla, De Gregori, Vasco Rossi, Gianna Nannini and international superstar Laura Pausini, Eros Ramazzotti and Andrea Bocelli.
Musicians who compose and sing their own songs are called cantautori (singer-songwriters). Their compositions are often protest songs, which typically focus on topics of social, political and intellectual relevance, or sentimal ballads.
Modern pop can roughly be divided in five periods or styles:
Musica leggare in the early 1950s and 1960s, with Domenico Modugno, Adriano Celentano, Mina, Gino Paoli.
Modern Italian troubadours and music of the 1968: Fabrizio De André, Francesco Guccini, Francesco De Gregori, Giorgio Gaber, Umberto Bindi, Luigi Tenco, Paolo Conte.
Protest themes became even more predominant in 1970s through authors such as Lucio Dalla, Pino Daniele, Francesco De Gregori, Ivano Fossati, Francesco Guccini, Edoardo Bennato.
Progressive rock and a new version of modern Italian music in the late 1970s, Franco Battiato, Le Orme, Lucio Dalla and others who started merging Italian music with British rock, pop and other music genres.
Rock leggero of the 1980s and 1990s, e.g. Vasco Rossi, Piero Pelù, and more recently Ligabue and Negramaro.
Then there are also artists such as Angelo Branduardi who mix pop, folk and baroque music into a new, personal genre.
You might also like: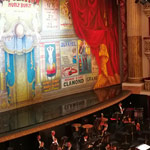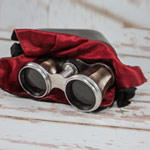 Photo credits: Palestrina © yournameonstones/fotolia