A beautiful, "Made in Italy" success story: Angela Caputi
Today, I would like to put one of my favorite Florentine artists/designers in the spotlight.
As I said in the Mission Statement of my website, what I'm constantly looking for during my travels through Italy are not only all sorts of offbeat and uncliché sights and places, but also inspiring people who are on the forefront of innovation, design and entrepreneurship, and at the same time keen on preserving the traditional craftsmanship and savoir-faire of yesteryear.
I first came across Angela Caputi's creations when I was in Milan, wandering through the bohemian-chic Brera district.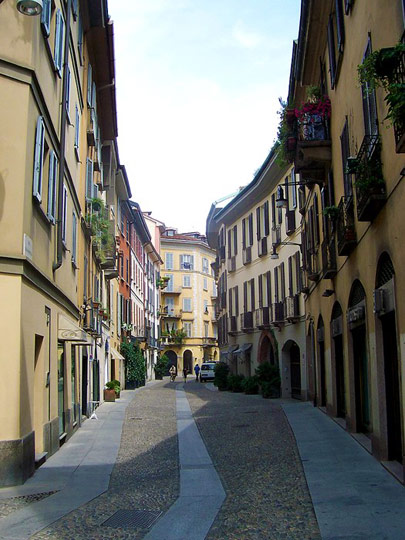 Almost by accident, I stumbled upon Angela Caputi's inviting little shop in one of the pedestrian streets near the Brera Academy of Fine Arts. The attractive, colorful window display of her boutique drew my attention as I was walking by.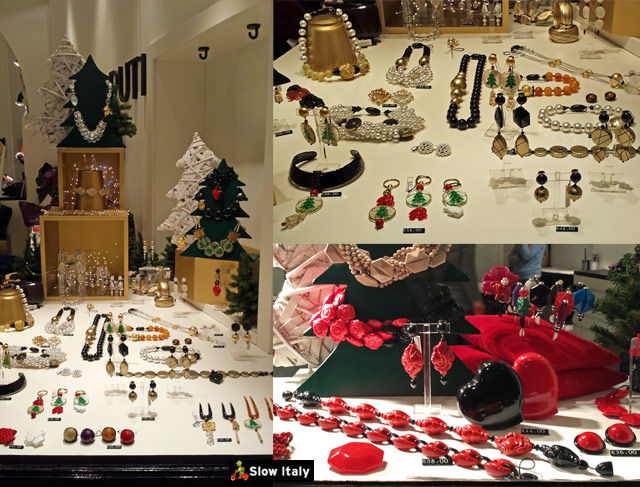 From a distance I could not immediately tell what I was seeing, but the shop definitely looked so inviting that I took a closer look. As I came closer, the little, dilettante artist in me was immediately seduced by the festival of colors and fantasy of shapes that were exhibited in the shop's window. So, I decided to go inside and find out more.
I was lucky to meet the daughter of the artist who very kindly started answering my questions while I was trying on some pieces, overwhelmed by the choice of splendid necklaces, over-sized bracelets and rings, impressive earrings and delicate brooches.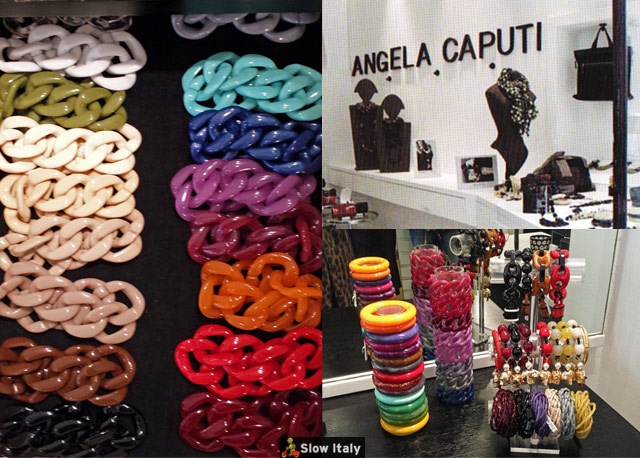 The success story of this artist is so inspiring! Starting in 1975, she just followed her instinct and inspiration and decided to go against the established codes of the fashion world of that time. What immediately struck me is the exceptional capacity of this artist to create exclusive pieces using only the most mundane of materials, namely plastic.
Relying only on the power of her original ideas and the conscientiousness of a centuries-old florentine craftsmanship in jewelry-making, Angela managed to blur the line between the so-called fine jewelry and faux jewelry, bringing her bold bijoux at the level of the finest jewelry, worn even by royalties (Queen Maxima of the Netherlands and Queen Mathilde of Belgium, just to name a few).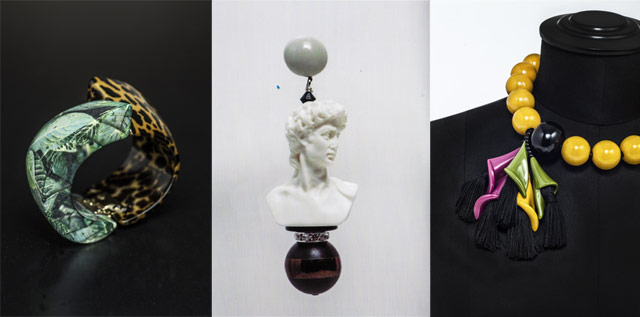 In a world where there often seems to come no end to the escalation of the "more ostentatious", "more bling-bling", I find it kind of refreshing to come across an artist who takes the opposite stance, using only synthetic resins instead of expensive gem stones and precious metals, to express her creativity, seemingly without any limits of colors, shapes and size, but without compromising on mastery, finesse…. and statement. The true prowess is that the synthetic resins don't look like plastic at all, but can take on the look of coral, turquoise, onyx, amethysts, jade, bronze or almost any texture.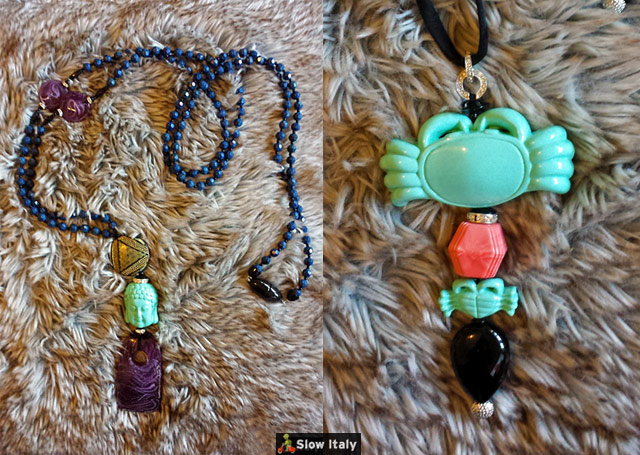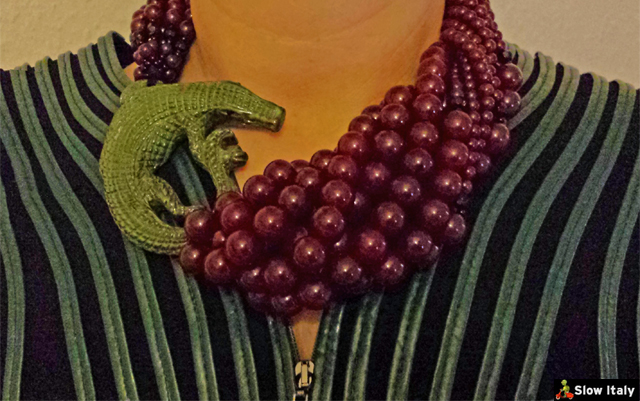 You can tell that every detail is heavily researched and meticulously executed, from the geometrical or smooth lines, to the stunning nuances of colors. It seems truly challenging to be able to balance such imposing pieces and yet at the same time keep them so delicate and pure in their lines and hues.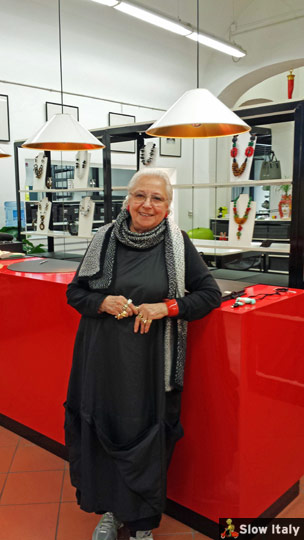 When I was in Florence last February, I had the opportunity to meet Angela Caputi in person. Rarely have I seen such a creative energy all concentrated in one person! Unlike many other famous names in the fashion world, Angela Caputi doesn't resort to ghost designers to design her collections, but still does all the design herself!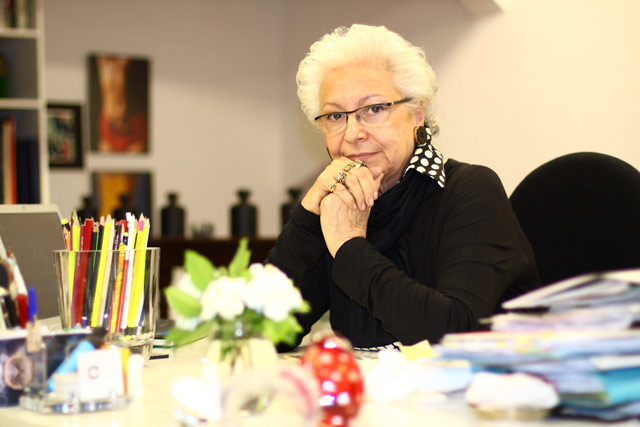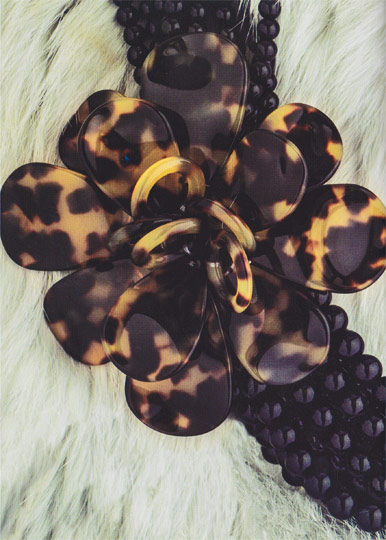 Taking her inspiration from American movies of the 1940s and a long-standing passion for fashion and art in general, Angela's influences are multicultural, multifaceted, extremely modern and at the same time classic and rigorous in their execution. There are also references, both in colors and topics, to the sea, fauna and flora, and the natural colors of Tuscany, blurring also the line between the natural and the artificial.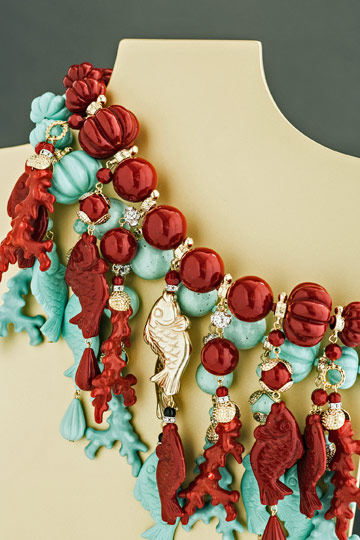 Angela Caputi Giuggiu', as the brand is named, is also a truly "Made in Italy" success story as all materials used are made in Italy by Italian suppliers and all jewelry is designed, created and assembled in the florentine workshop in via San Spirito.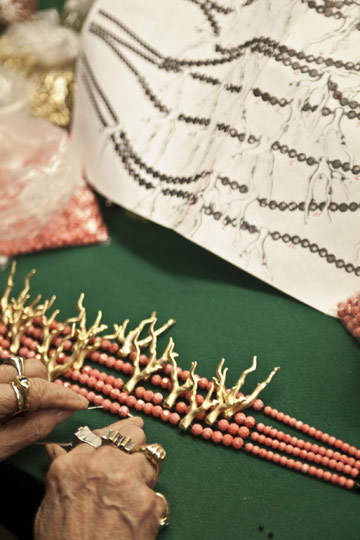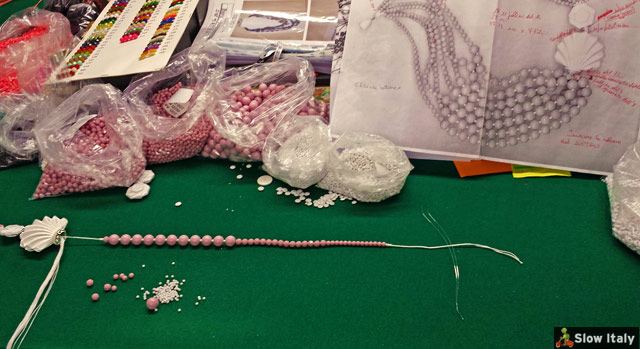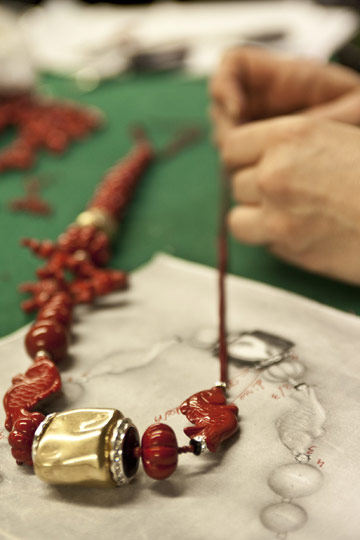 The synthetic resin pieces are supplied by Italian button makers, specialized in the production of small, high-precision pieces. The small beads are either made from mono-colored resin paste, or are lacquered, sprayed or hand-painted to achieve the wide array of colors and shapes.
Mixing passion and entrepreneurship Angela gained recognition both from Haute Couture stylists and museums who recognize her unique and inimitable style. Not surprisingly her creations have been displayed in the Metropolitan Museum of Art in New York, in the Museo degli Argenti, and in the Galleria del Costume in Florence.
So, when you are in Florence, just have a walk across the Ponte Vecchio to the Oltrarno, the historic center of Florence on the other side of the Arno, where you can find Angela Caputi's workshop in the lovely Via Santo Spirito. Named after the brunelleschian Santo Spirito Basilica, Via Santo Spirito is filled with artisan studios and delightful boutiques.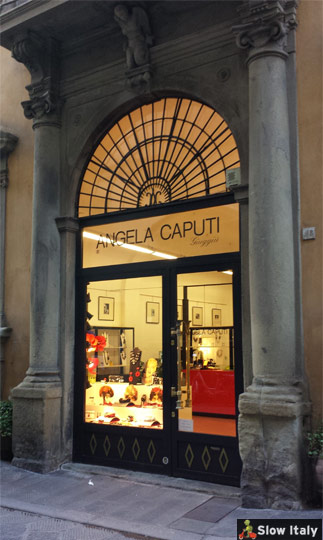 Angela's workshop in housed in Palazzetto Medici, a historic building in Gherardo Silvano's style dating back to the mid 1600s . Above the balcony you can see the coat of arms of the Medici.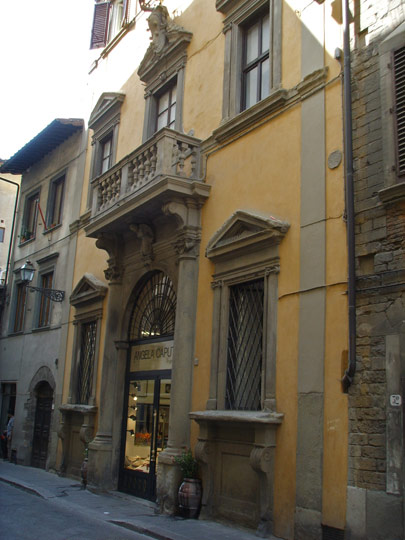 Stores mentioned in this article:
Via Madonnina 11, Milano
Via Santo Spirito 58/R, Firenze
More info: www.angelacaputi.com