Today is a unique day in the history of Vatican city and Rome. Not only will two former popes, John Paul II and John XXIII, be elevated to sainthood at the same time, but their canonization will be celebrated by two living Popes side by side, the current Pope Francis and Emeritus Pope Benedict XVI. This event is unprecedented in Catholic history.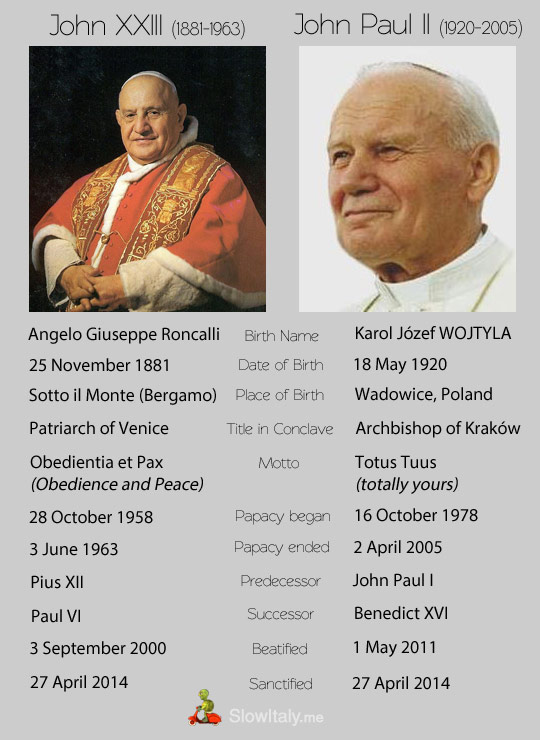 The event is unique for other reasons, as well. Here is why:

Pope Benedict XVI has a personal connection with both of the new saints. He personally knew Pope John XXIII and was one of the most trusted assistants of John Paul II.

In another unparalleled historic twist, it was one of the new saints, Pope John Paul II, who put the other, Pope John XXIII, on the final step to sainthood when he beatified him in September 2000.

The record time in which John Paul II made it to beatification is also quite unprecedented; a mere nine years after his death, thanks to Benedict XVI who waived the usual five-year waiting period in answer to the hundreds of thousands of cries of Santo Subito ("Make him a saint now") on the day of John Paul II's funeral mass. As a reference, St Francis of Assisi was elevated to sainthood in an even shorter time, just two years after his death in 1226.

Many see the twin-canonization as a gesture of reconciliation by Pope Francis in an attempt to appease both sides of the church, the liberal one which approves of John XXIII, and the conservative one, which identifies with John Paul II.

Both new saints were icons of their time and very popular popes, who both also played an important role in international politics. They both also touched people well beyond the Catholic community.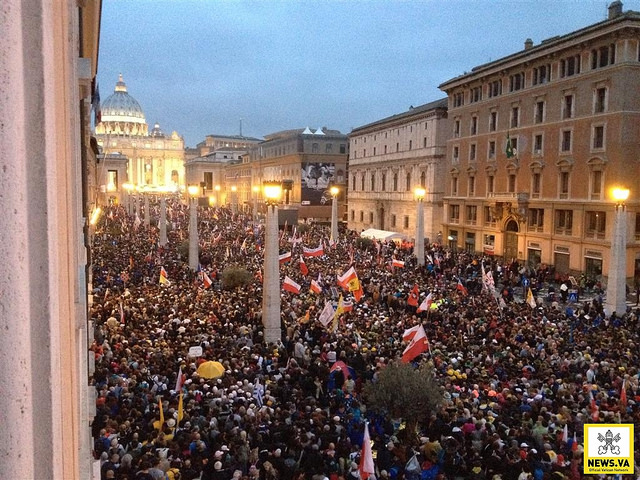 About 800,000 worshippers from all over the world have gathered in Rome to witness the unprecedented twin saint making of two former popes. The live transmission of the double canonization is expected to attract a record audience world-wide.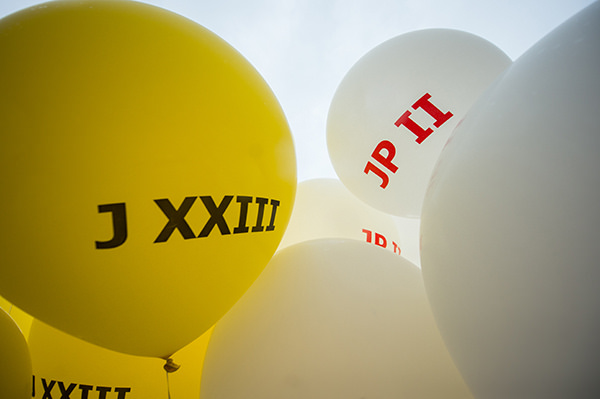 Here is the video of the full canonization ceremony:
Photo credits: infographic by Slow Italy; heading to Saint Peter's square by news.va; balloons by Catholic Church England and Wales.