Alberto Sordi, Italy's movie legend or 'Albertone Nazionale'.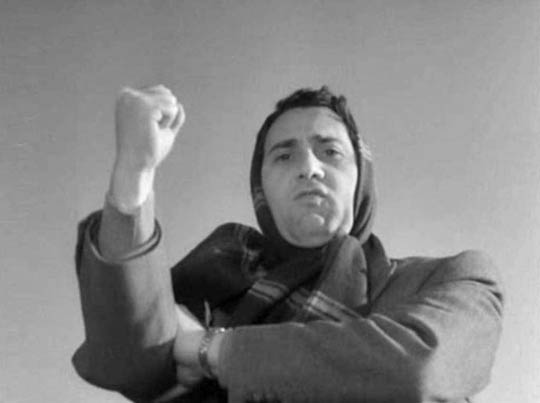 Exactly 10 years ago yesterday, Alberto Sordi died in Rome, his hometown, on February 25, 2003.
This event formally signed the death of the dolce vita in the Italian film history, as for more than 40 years Alberto Sordi had been THE actor who best portrayed this period.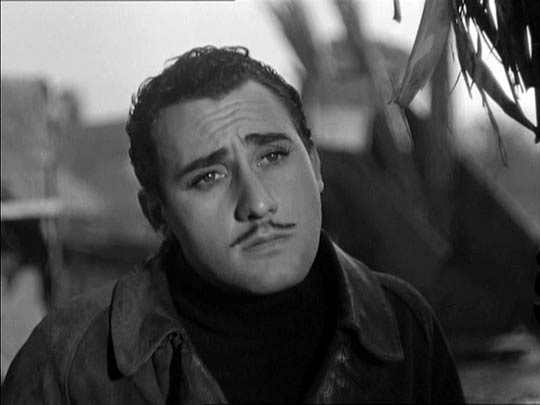 For decades he parodied the "average Italian", as evidenced by the titles of some of his most representative films: Il Seduttore (The Seducer, 1954), Lo Scapolo (The Bachelor, 1955), Il Moralista (The Moralist, 1959), Il Vedovo (The Widower, 1959), Il Vigile (the Traffic Policeman, 1960). More than anyone, Alberto Sordi embodied the Italian life from the early '50 till 2000, with a touch of irony and subtle cynicism, showing the vices and virtues of an entire country.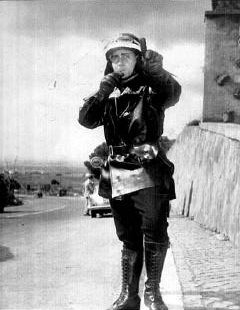 Actually, he was nicknamed Albertone nazionale precisely to reflect his "national popularity" that made him a sort of "institution" of the Italian film industry. Within a week of his death, Rome's mayor renamed one of the main central gallery streets after him.
It took Sordi quite some years to come to his unique movie "identity". His career started in 1937 when he won a Metro Goldwyn Mayer contest for the Italian voice most resembling Oliver Hardy.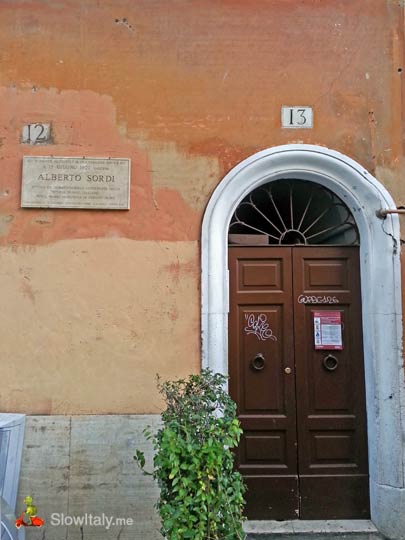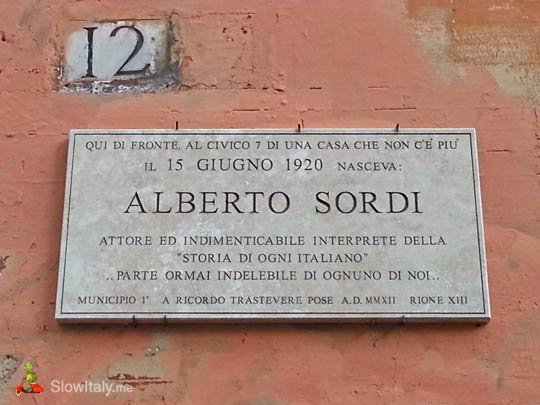 Born on June 15th, 1920, in Rome's rione of Trastevere (Via San Cosimato), his career start coincided with the Mussolini years. At that time, Laurel and Hardy were quite popular in Italy (and among the few Hollywood products not banned by Mussolini). So, becoming the official voice of Hardy was an incredible opportunity for the young Alberto towards making his way in the Italian film industry.
However, the beginnings were not easy. Sordi performed in several movies but his roles were really small. Much more successful was his career at the Radio where, in 1948, he started the program Vi parla Alberto Sordi. Some of the characters he invented there (Mario Pio, il compagnuccio della parrocchietta and il conte Claro) would later appear in some of his most famous films.
After several years of minor roles in different films, he gets the lead in the 1951 film Mamma Mia, Che Impressione (Dear me, what a fright), a story written by Sordi himself.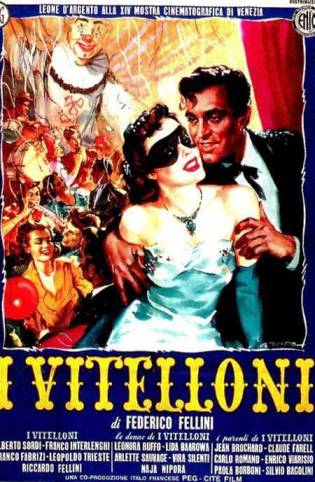 However, the turning point comes when the great Federico Fellini insist on having him in his film Lo Sceicco Bianco (The White Sheik), against the will of the producers. The film is a flop, but Fellini gives him a second chance with I Vitelloni (The Young Steers) in 1953, where he again imposes Sordi in one of the leading roles, despite fierce opposition of the producers. The movie, in which Sordi embodies an over-aged adolescent, becomes a great success and Alberto Sordi is acclaimed by critics for his great interpretation. At this point, his career really takes off and the year after (1954), he acts in 13 films among which Un Americano a Roma (An American in Rome), whose main character, Nando Moriconi, is one of Sordi's most loved and famous roles by the public.
In 1956 he is awarded with the Nastro D'Argento as best actor in the film Lo Scapolo d'Oro directed by Antonio Pietrangeli.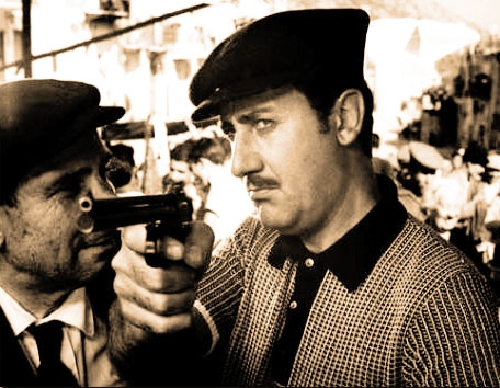 His new stature opens the doors of the cinema d'autore for him: Una vita difficile (A difficult Life, 1961) by Dino Risi, a film spanning the Italian political and social situation from 1944 to 1960, in which he was an Italian partisan movement fighting against the Nazis; Alberto Lattuada's 1962 Mafioso, in which Sordi is a good-natured factory manager who visits his native Sicily and is tasked with performing a hit for the mafia in the United States; and the 1960 film directed by Luigi Comencini Tutti a Casa (Everybody Go Home), about a soldier's moral and physical difficulties after the 1943 Italian armistice.
In 1959 he acts together with the great Vittorio Gassman in La Grande Guerra. The film is a great success and Sordi receives his second Nastro D'Argento and his first David di Donatello prize.  His success becomes international and he is being asked to act in a memorable film I Due Nemici together with the great David Niven.
Alberto Sordi career takes off on international level when his film Il Diavolo is recognized worldwide, winning the Golden Globe in the United States and the Golden Bear at the Berlin festival in 1963.
In 1965, he starts his career as film director and he goes to London to do his first directed (and acted) film called Fumo di Londra. He goes from one success to the other winning a second and a third David di Donatello prize in '66 and '69. What is interesting to note is that he is not only awarded prizes and acclaimed by critics, but also obtains public recognition, as the common people seem to love his interpretations.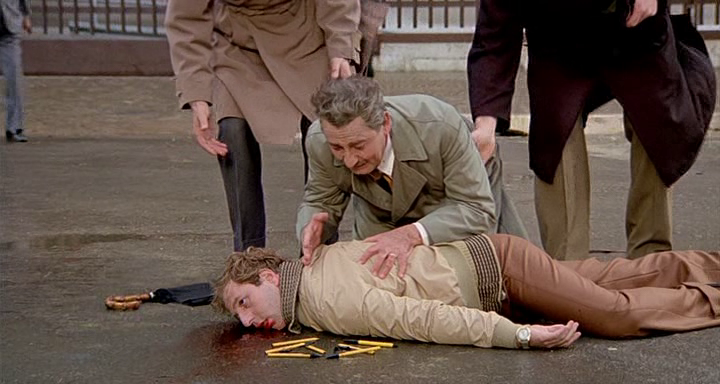 In 1977, he acts in Un Borghese piccolo, piccolo directed by Mario Monicelli where he plays a dramatic role with political implications (at that time Italy is plagued with terrorism from the left wing Brigate Rosse). This role gives him a phenomenal success, confirming his skills not only as a comic actor but also as a dramatic actor. He is awarded another David di Donatello prize and la grolla d'oro.
In 1979, he starts a series on the Italian TV, called Storia di un Italiano where,  through bits and pieces of his previous films, he shows the different characters of the Italians and how the country evolved from the early fifties to late seventies. The show is a great success and is shown at the MOMA (Museum of Modern Art) of New York in 1986. The MOMA-event is so successful that it is soon extended to other American cities (Berkeley, Los Angeles, Boston, Chicago and Houston).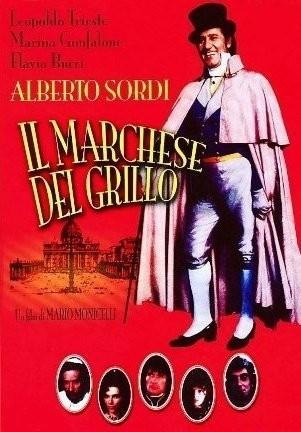 In 1980, he acts in the Marchese del Grillo (The Marquis of Grillo), probably his most famous film, which depicts early nineteenth-century episodes in the life of a nobleman in Rome. The film is an ironic re-interpretation based on folkloric accounts of the real Onofrio del Grillo and other historic people who lived in the eighteenth century.
In 1993, he is invited at the Cannes film festival where he is awarded the title La legion d'honneur and in 1995 he received the Leone d'Oro alla carriera at the Venice film festival.
In 2002, Sordi announced his retirement. He dies one year later, aged 83, after 147 films played as an actor, 19 as a director and 1 TV Show. With him, Italy loses the most popular actor of the last century: Albertone Nazionale !