update 2014: this year the artichoke festival of Ladispoli will take place from Friday April 11 to Sunday April 13.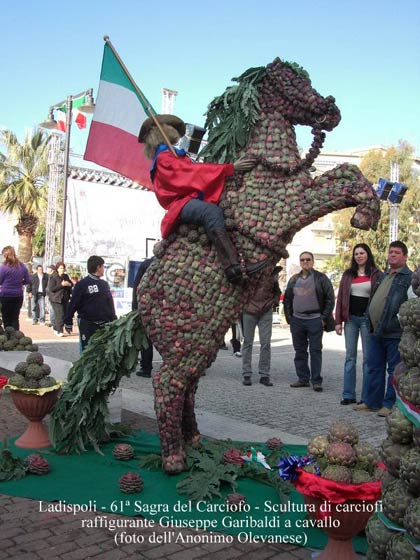 April is the month of the artichoke festivals in Italy. One of the most famous Italian food festivals is the Sagra del Carciofo Romanesco of Ladispoli, in the Lazio region, celebrating the Roman artichoke.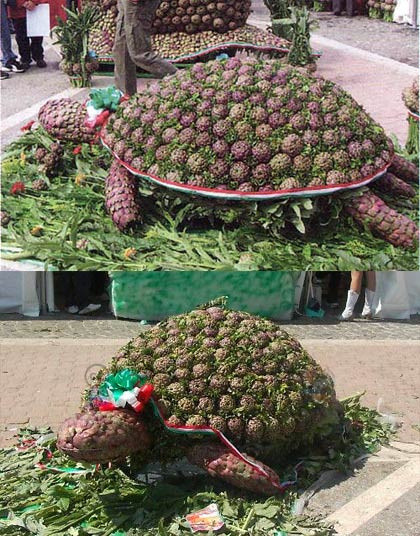 An icon of the Roman and Jewish cuisine, the Roman artichoke (Cynara Cardunculus) comes from the plains of the Lazio region. The earliest ones are harvested in Ladispoli and Cerveteri, while the later varieties come from the Agro Pontino plain that extends to Sezze in the province of Latina. This "Romanesque" artichoke (Carciofo Romanesco) is one of the most appreciated variety of the over 50 artichoke types available in Italy, from the spiny Ligurian ones to the small purplish Tuscan ones.
The Romanesco variety has gained Igp (Indicazione Geografica Protetta) status by the European Union. Apart from the Romanesco the only other variety to have gained an Igp denomination in Italy is the Carciofo di Paestum from the Campania region. Other excellent varieties from other regions include the Carciofo monteluponese (Marche), the Carciofo violetto di Sant'Erasmo (Veneto) and the Carciofo violetto precoce di Jesi (Marche), which is perfect to be consumed raw.
The Italian word for artichoke, carciofo, comes from the Arabs who called it karshuf (or kharshuf) and cultivated it as early as 400 BC. More about the history of the artichoke in our article about the aphrodisiac foods in Italian cuisine (indeed, artichokes are believed to reinforce sexual desire…!)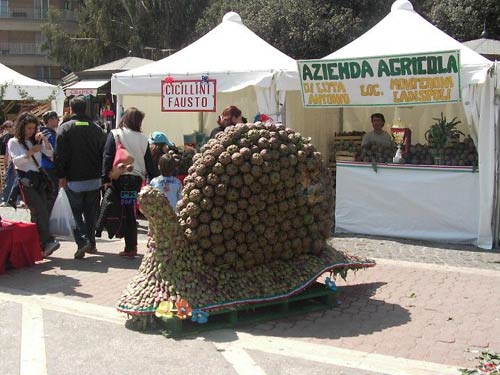 The 64th edition of the artichoke sagra of Ladispoli will take place from Friday April 11 to Sunday 13, while the Sezze festival is generally scheduled at the beginning of April 15. During the two weeks preceding the festival, restaurants of the area of Ladispoli will offer fixed-price tourist menus (at 21 euros) exclusively based on artichokes.
In Rome you can try Jewish artichokes (carciofi alla Giudia) in the legendary trattorias of the Jewish Ghetto, such as Sora Margherita and Giggetto – al portico d'Ottavia. For the non less excellent carciofi alla Romana (artichokes the Roman way) head to one of the restaurants of Rome serving typical Roman cuisine: our favorites are Checchino in the Testaccio district, Lo Scopettaro, Checco er Carrettiere and Sora Lella. Most restaurants serving original Roman cuisine will serve both the carciofi alla Giudia and the carciofi alla Romana.
You may also like:




Carciofi fritti recipe (Crispy coated artichokes)

Checchino dal 1887: our very favorite restaurant in Rome

Italian Love Foods: aphrodisiac foods in Italian cuisine