Cioccoshow Bologna November 16 – 20 2011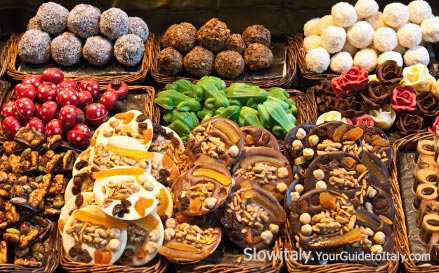 The 7th edition of the famous Chocolate Fair of Bologna, Cioccoshow, will take place from November 16th through 20th.
Master chocolatiers from various regions of Italy, more specifically from Tuscany, Piedmont, Sicily, Valle d'Aosta, Sardinia, Puglia and Emilia Romagna, set up kiosks at the annual festival, which branches outward from the epicenter, Bologna's Piazza Maggiore. Chocolates in all kinds of shapes, sizes and tastes can be admired and acquired while wandering from booth to booth through the city center.
On Saturday November 19th a Ciocconight afterhour will be held from 20:00 to 24:00 during which the exhibitors booths will remain open and various events will be organized.
New this year are the Cioccoshow award and the libreria del cioccolate (chocolate bookshop). The award will be given to the best master chocolatiers in the following categories: best cherry praline, best soft chocolate, best innovative product, special award for a sweet-salted product, best exhibitor Cioccoshow 2011 and best graphic design packiging project. The libreria del cioccolate will be staged especially for Cioccoshow in Piazza del Re Enzo offering more than 300 book titles on the theme of chocolate.