(updated March 10, 2015)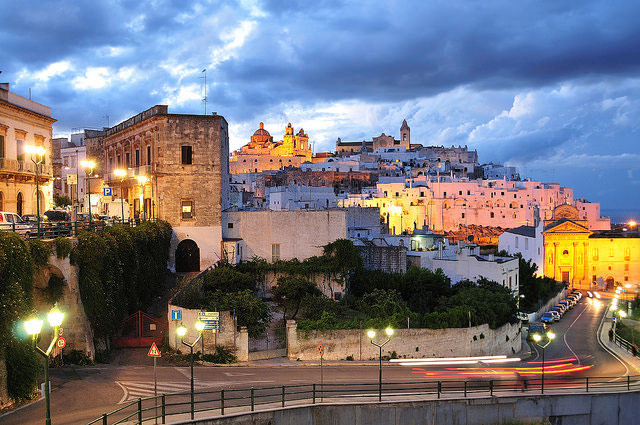 Ostuni, also referred to as "the White Town" (La Città Bianca), is a picturesque, medieval town spread over three hills to the north of Brindisi, in the Puglia region of Italy.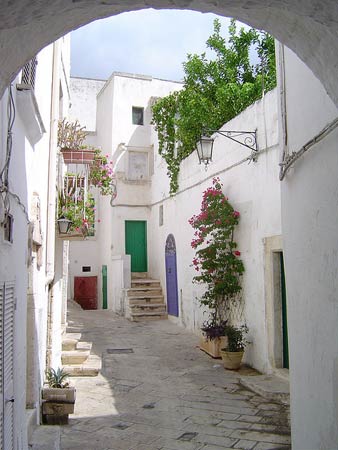 The town owes its nickname to its typically white-painted architecture and white alleyways and stairs, twisting up to a pinnacle offering beautiful views over the countryside.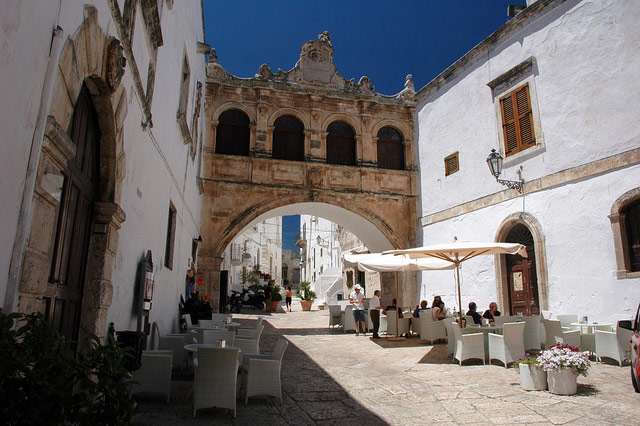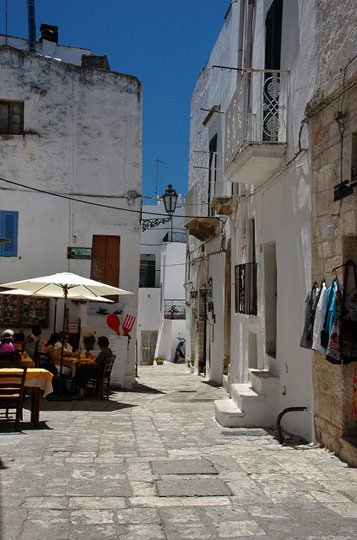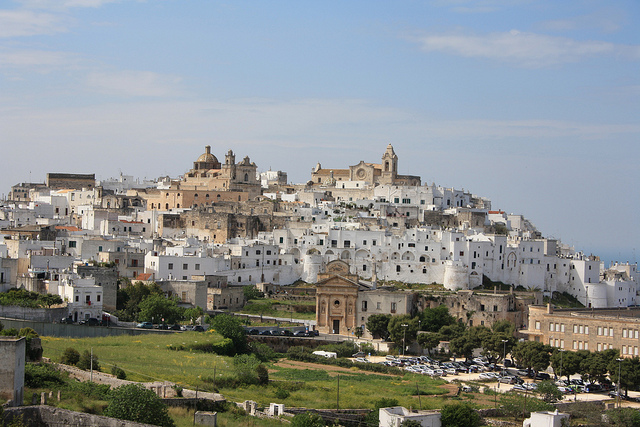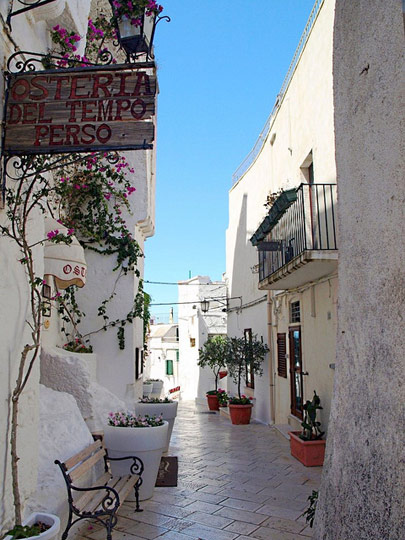 The town was shaped by several waves of invasion (Byzantines, the Normans, the Angevines), the last of which was the kingdom of Spain until 1806, as can be witnessed by the relics of the ancient Aragonese defensive walls.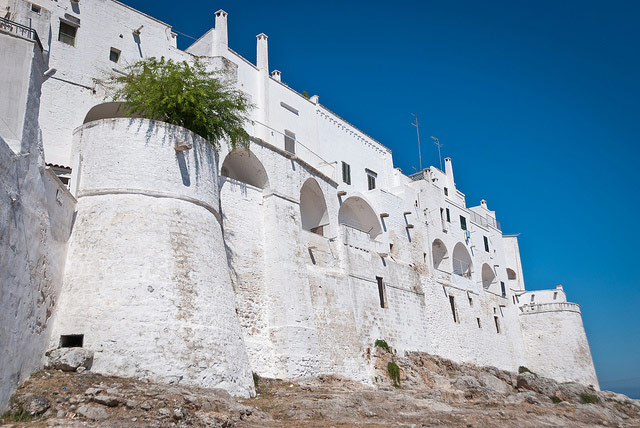 The town's Cathedral and palazzi of local aristocratic families still testify to this rich heritage.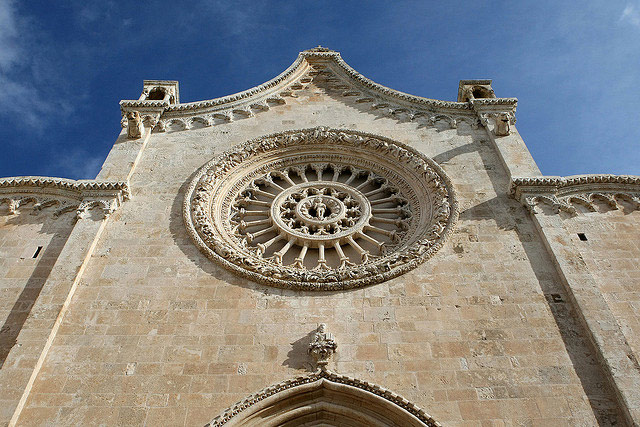 The late 15C cathedral has an interesting façade with an unusual pattern and a beautiful rose window based on a complex symbolism relating to the passing of time.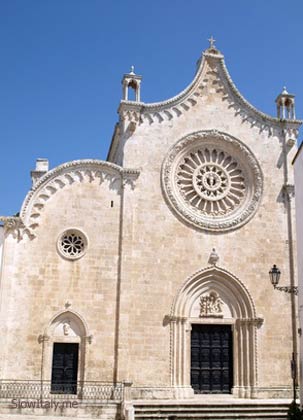 The 24 external arcades of the rose window stand for the hours day, while the 12 internal ones stand for the months of the year. The days of the week are represented by the 7 angels' heads surrounding central Christ.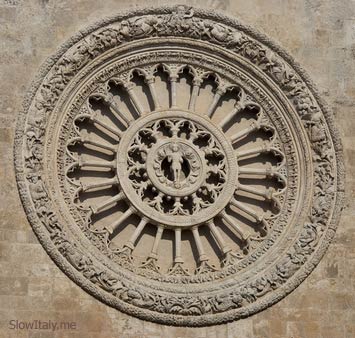 The surrounding countryside also includes a number of typical masserie pugliese, fortified large estate-farms of historical-architectural importance, such as Santa Caterina, lo Spagnulo and San Domenico, which was once held by the Knights of Malta.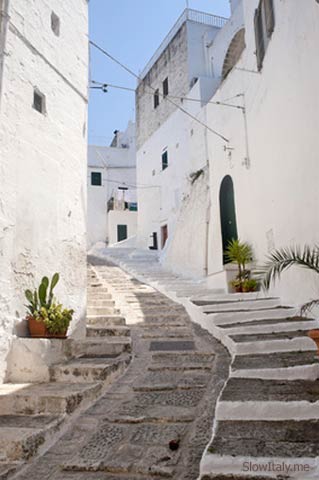 The coast near Ostuni hosts a few pristine beaches, such as the popular spiaggia Torre Cane, but quieter sand strips abound as well.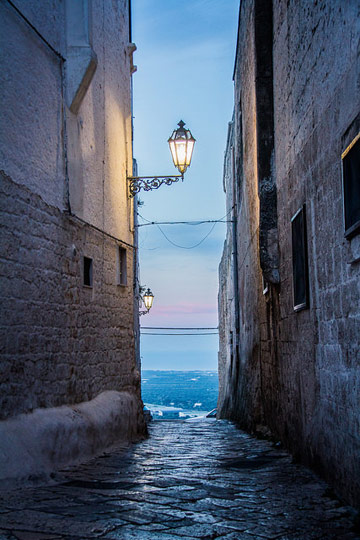 The town could be nicknamed blue and green as well, as it was awarded the Bandiera Blu and cinque vele of Legambiente for its clean beaches and water, and the environmental quality of its resorts in 2008, 2009, 2010 and 2011. Ostuni is also renowned for its olive and grape culture.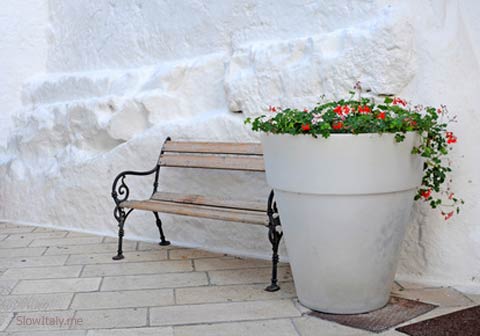 You may also like:



Exploring Alberobello, the capital of the curious cone-roofed drystone dwellings



Grecìa Salentina, a patch of Greece in Italy
Photo credits (top to bottom): Ostuni by night Juan Rubiano; Ostuni alley by Jlo from lab; Ostuni alley by Pug Girl; Osteria del tempo perso by serdir; Ostuni defensive walls by Mariano Colantoni; Ostuni by Stijn Nieuwendijk; Ostuni cathedral by Andrea Donato Alemanno; Marina di Ostuni by Simone Zucchelli; Ostuni alley at night by Janssem Cardoso.