Tomorrow starts the International Rome Festival, which takes place from October 27th to November 4th.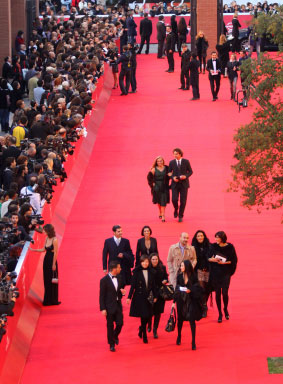 Fifteen films are in competition for the Official Selection of this sixth edition of the International Rome Film Festival, including Hotel Lux by Leander Haußmann, Babycall by Pål Sletaune, Hysteria by Tanya Wexler, Poongsan by Juhn Jaihong, The Eye of the Storm by Fred Schepisi with Geoffrey Rush and Charlotte Rampling, Une vie meilleure by Cédric Kahn with Guillaume Canet, Magic Valley by Jaffe Zinn, Un Cuento Chino by Sebastián Borensztein and La Femme du cinquième by Pawel Pawlikowski with Ethan Hawke and Kristin Scott Thomas.
There are four Italian films in competition: La kryptonite nell borsa by Ivan Cotroneo, with Valeria Golino, Cristiana Capotondi and Luca Zingaretti, Il cuore grande delle ragazze by Pupi Avati with Cesare Cremonini and Micaela Ramazzotti, Il mio domani by Marina Spada with Claudia Gerini, Il paese delle spose infelici by Pippo Mezzapesa.
A film out of competition in the Official Selection The Lady by Luc Besson with Michelle Yeoh and Daniel Thewlis, will open the Festival, while the screening of a digitally restored 4K version of Breakfast at Tiffany's will be the final event of the Festival.
More info: http://bit.ly/s7amiA