Top 10 Italian castles turned into hotels
Updated June 24, 2015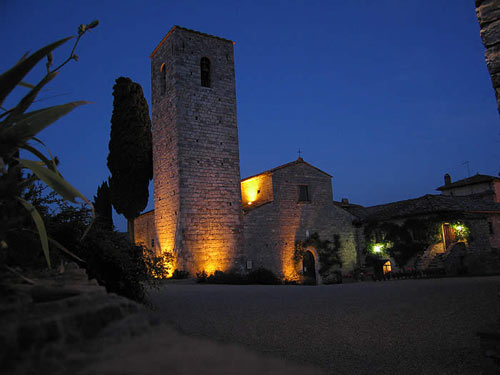 The following list includes castles and historic buildings, which have all been beautifully restored and renovated into hotels, while retaining all the features of their original medieval or Renaissance architecture.
Five of these castle hotels are located in Tuscany, the five others can be found in Umbria, Lombardy, Liguria and Lazio. The ranking was produced by Tripadvisor.it based on customer ratings. Most of the castle hotels on the list are ideally situated as a starting point for winetasting excursions and visits into the medieval history of the area. One hotel also organizes truffle hunts.
1. Castelletto di Montebenichi, Bucine (Tuscany)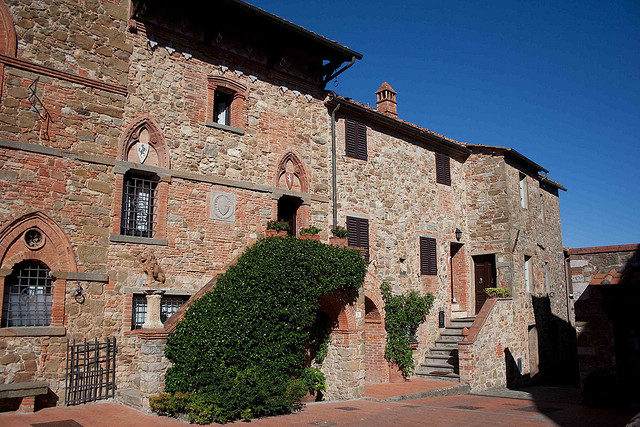 Located in the heart of the Chianti wine region, halfway between Arezzo and Siena, Castelleto di Montebenichi is a 12th century castle standing on the top of a hill surrounded by a large, private park overlooking the Valdambra. The small village of Montebenichi forms an excellent starting point to discover the artistic, natural and gastronomic delights of the area in the heart of the Chianti region. Through the olive groves, vineyards and medieval villages the Chianti road leads you southwest to Montalcino, renowned for the world-famous Brunello wines and southeast to Montepulciano, home of the Vino Nobile. Perugia, Orvieto, Assisi and Florence are all within an hour's drive, while Siena and Arezzo can be reached in just 30 minutes.
2. Castello di Spaltenna, Gaiole in Chianti (Tuscany)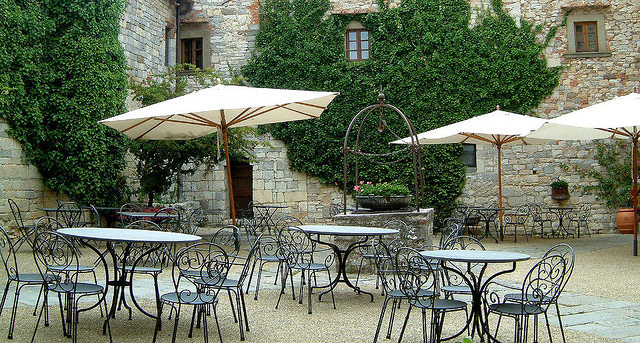 Castello di Spaltenna is also located in the Chianti region, in the village of Gaiole. It is just a few minutes distance from the most renowned towns of the Chianti Classico wine region such as Radda, Panzano, Castellina, Greve and Castelnuovo Berardenga. Surrounded by vineyards and woods, the medieval hamlet of Spaltenna includes a fortified monastery with a cloister and a bell tower dating from 1000 AD. The castle itself dates back to 1030. Facilities and activities include a wellness Center, wine and oil therapy treatments, a Turkish bath, indoor (heated) and outdoor swimming-pools. Siena and Florence are within easy reach.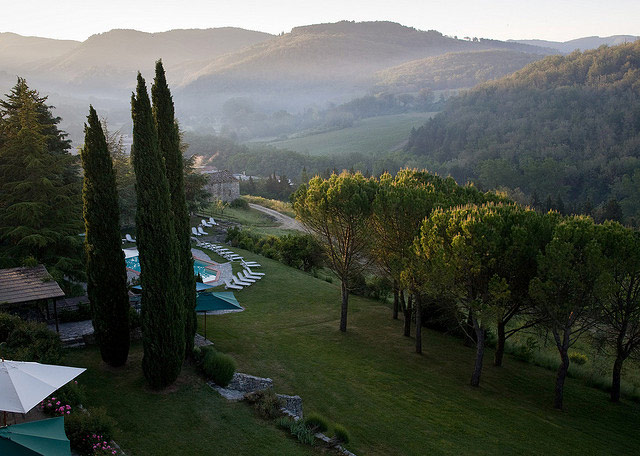 3. Castello di Tornano, Gaiole in Chianti (Tuscany)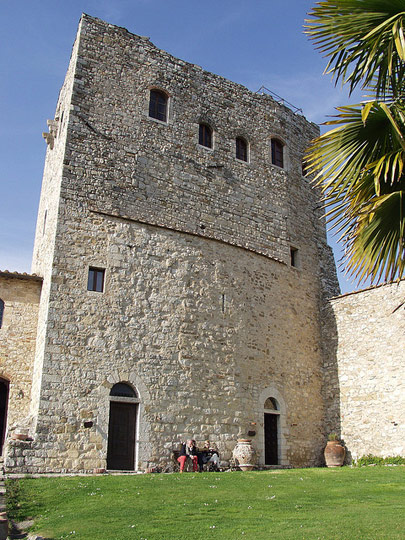 Castello di Tornano is located in an 11th-century hamlet, surrounded by cypress trees, vineyards and olive trees. The first mention of the 'court' of Tornano actually dates back to the year 790 during the reign of Charles the Great (Charlemagne) in Italy. In the wine cellar, located in the original prison of the castle, guests can taste Chianti Classico and the olive oil produced by the Hotel.
4. Castello di Gargonza, Monte San Savino (Tuscany)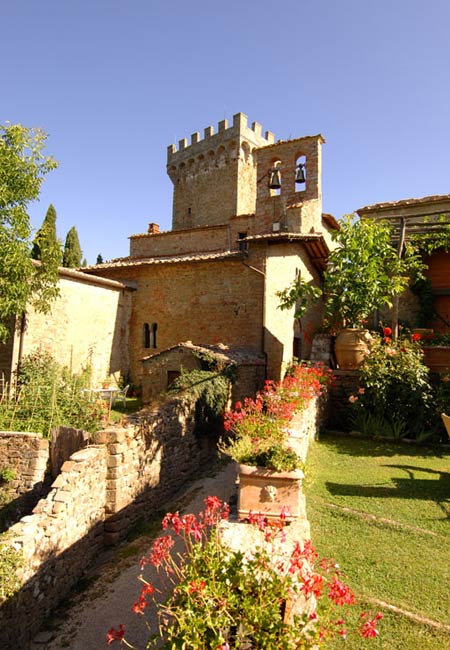 Castello di Gargonza is a privately owned 13th-century fortified village in the beautiful Val di Chiana, offering rooms and vacation apartments with bed and breakfast service. The earliest records of Gargonza date back to 1150, mentioning a fortified castle along the road from Arezzo to Siena. It is this same castle that Dante spent a few days in exile. The rooms and apartments are all located withing the medieval hamlet. The medieval property also includes an outdoor pool, private gardens, a restaurant and a conference center.
5. Palazzo Guadagni, Florence (Tuscany)
The area of the historic center of Florence where this hotel is situated was originally inhabited by artisans and merchants. Hotel Palazzo Guadagni was built for a silk merchant named Riniero di Bernardo Dei in the 1500s. Today, this Renaissance palace an elegant 3-star hotel, furnished in a vintage style reflecting its aristocratic origins.
6. Castello Chiola, Loreto Aprutino (Abruzzo)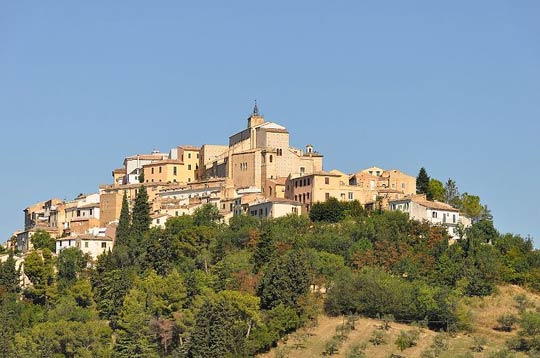 Castello Chiola is located in the medieval town of Loreto Aprutino, in the Abruzzo region. It dates back to the year 864.
7. Castello dell'Oscano, Perugia (Umbria)
Castello dell'Oscano in Umbria is home to a family-run hotel surrounded by a beautiful park, lined with lindens, oaks, ancient pines, cypresses and olives. Among the activities offered are truffle hunts.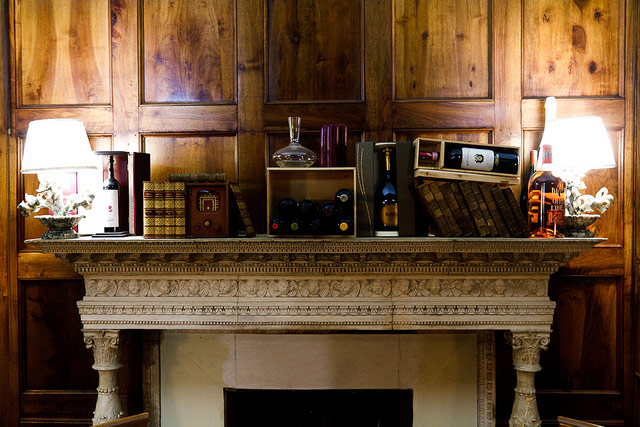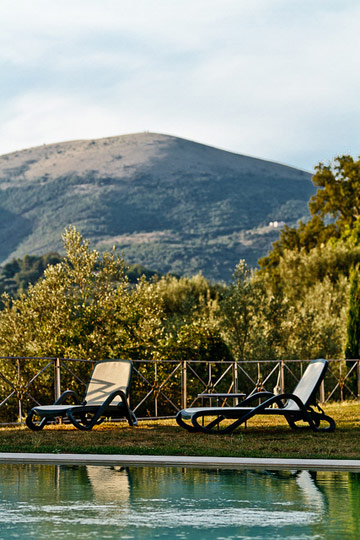 8. Grand Hotel dei Castelli, Sestri Levante (Liguria)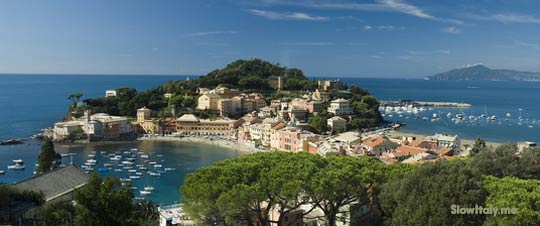 Grand Hotel dei Castelli is located on the peninsula of Sestri Levante in Liguria. The hotel consists of three castles that were renovated and transformed into a luxury hotel in the 1950s. The castles themselves were built on the privately-owned peninsula in the 1920 on the ruins of ancient castles. Byzantine items recovered from ancient buildings of Southern Italy, were included into the construction.
9. Castello del Belvedere, Desenzano del Garda (Lombardy)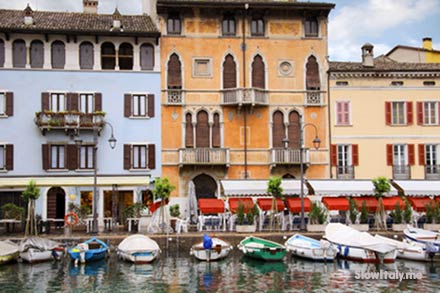 Lombardy's 18th-century Castello del Belvedere, is set inside a 50 000 m² natural park overlooking Lake Garda. It is within a 5 minutes drive from the historical centre of Desenzano.
10. Castello Orsini, Bracciano (Lazio)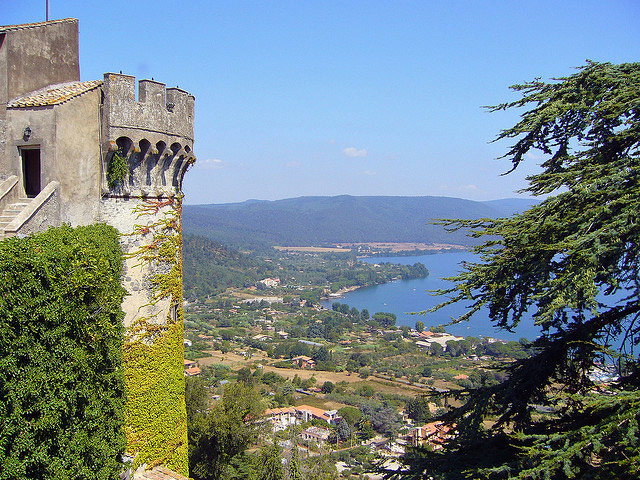 Located a few kilometers north of Rome, near via Salaria in Nerola, the Orsini Castle was built in the X century on the ruins of an ancient Sabina fortress.
Today the castle boasts 51 charming guest rooms, a restaurant, swimming pool and a Beauty Farm.

Top 8 romantic destinations in Italy
Photo credits (top to bottom): Castello di Spaltenna © spaltenna.it, Castelletto di Montebenichi by PAVDW, Castello di Spaltenna by Thomas Hawk and Allan Harris; Castello di Tortano by Michele Piccardo; Castello di Gargonza © gargonza.it, Loreto Aprutino by Ra Boe/Wikipedia via Wikimedia Commons; Castello dell'Oscano (3 photos) by Alessio Molteni; Sestri Levante © paolo maria airenti/Fotolia.com, Desenzano del Garda © cmfotoworks/Fotolia.com; Castello Orsini by bellevue21.