Wine bottles to promote reading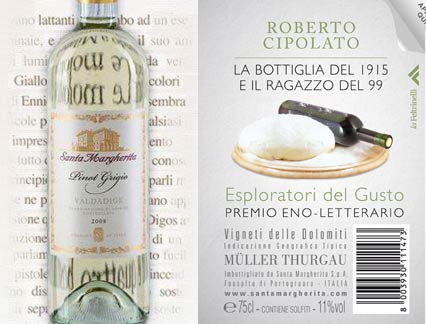 Short stories published in the form of tiny booklets attached to the back of wine bottles to promote reading…
The idea come from a leading Italian book store chain Feltrinelli and wine-makers Santa Margherita from northern Italy who decided six years ago to join forces to promote reading in their own way.
They created a short story contest for amateur writers on a subject related to wine and food. The best short stories are published on the back label of three classic Santa Margherita white wines.
This year's three winners of the Premio eno-letterario "Santa Margherita" out of 10,000 participants are:
1° Roberto Cipolato
with the short story "La Bottiglia del 1915 e il ragazzo del 99".

2° Laura Visconti
with the short story "I Cinque Sensi".
3° Emanuela Pozzan
with the short story "Prodigio di Semplicità".
They will see their short works published in the form of small booklets attached to the back of Santa Margherita's 700,000 bestselling bottles of Pinot Grigio Valdadige D.O.C., Chardonnay Trentino D.O.C. and Müller Thurgau Frizzante Vigneti delle Dolomiti I.G.T.
Info: www.santamargherita.com