Ode to a Sicilian icon: the Carretto Siciliano
(updated May 12, 2014)
The Carretto Siciliano (or carrettu sicilianu in Sicilian) is a lavishly decorated and colorful, horse-drawn cart, symbolic of the folklore of Sicily. These light, two-wheeled carts are covered in carvings and gaily colored painted scenes representing Sicilian folklore and history.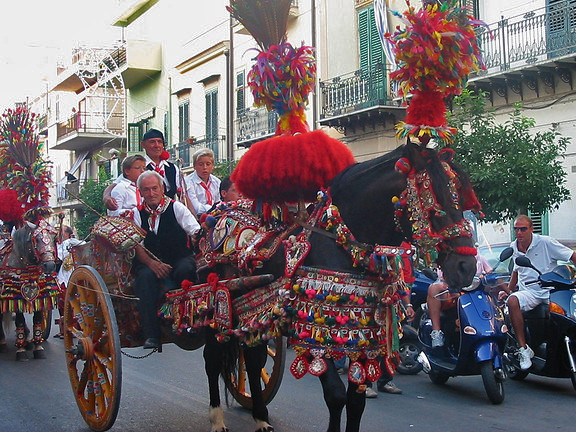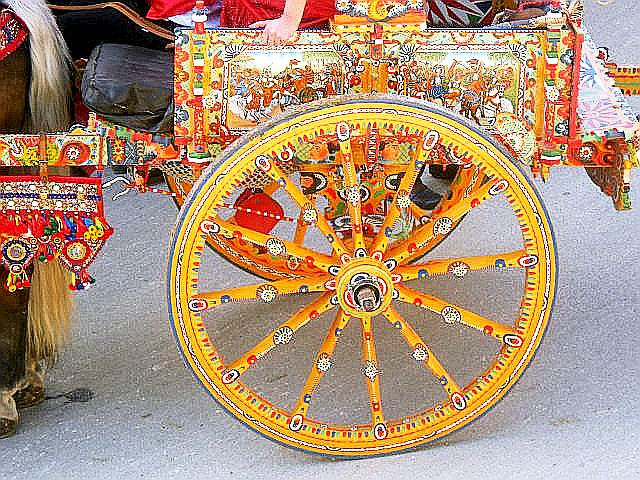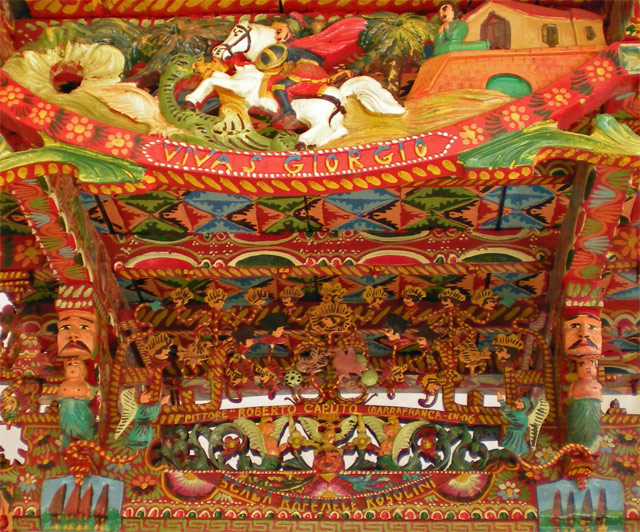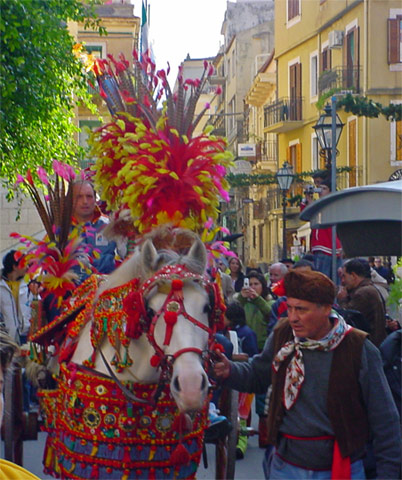 The painted scenes depicted on the carts were once also a way to transmit tradition and historical information in a non-verbal way. The colors of the flag of Sicily's capital Palermo, yellow and red, are prominently represented as well, together with intricate geometrical symbols and other designs in bright blues and greens.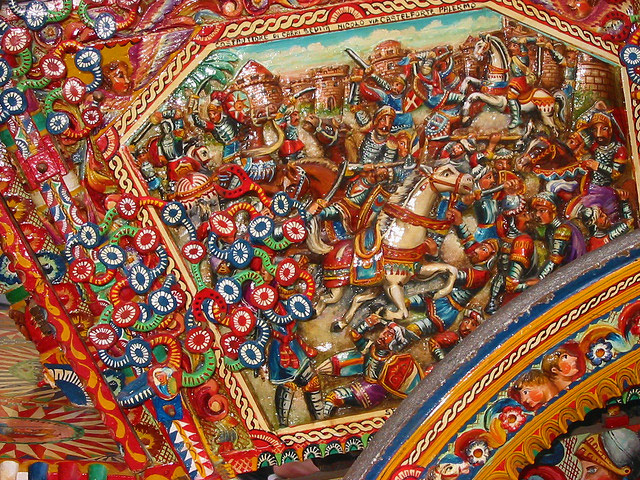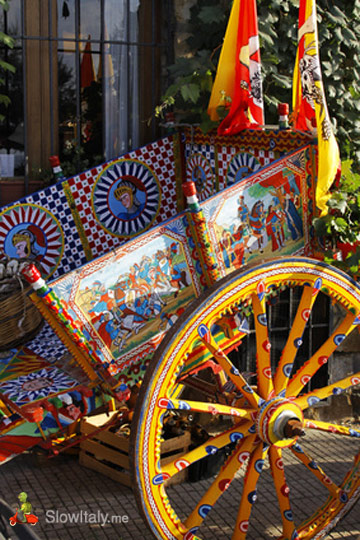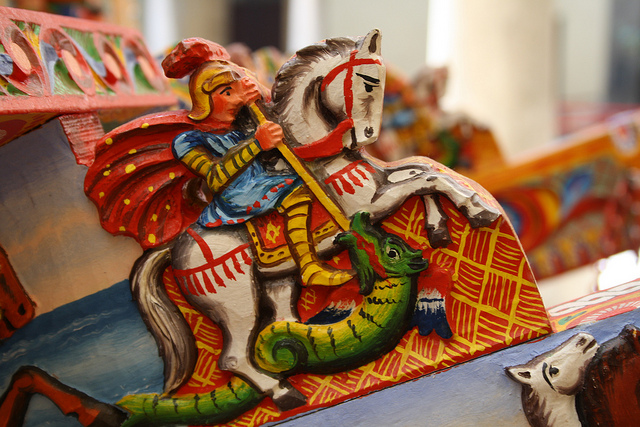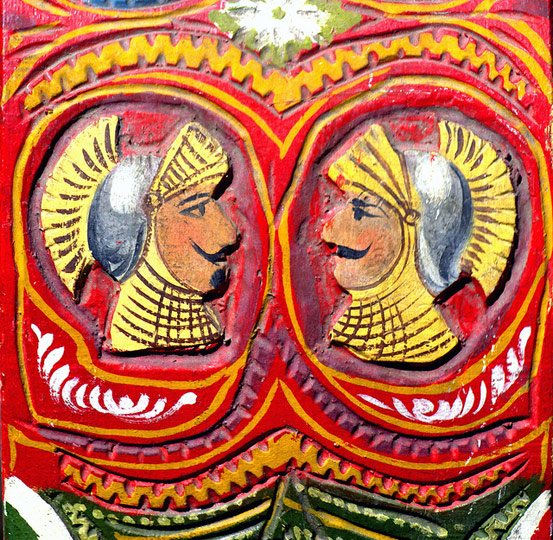 The carts are hand-made out of wood with metal components. The type of wood is selected in function of what the cart will be used for. The horses or donkeys pulling the carts are often elaborately adorned as well.
Each province in Sicily has their own style of Sicilian Carretto. Carretti made in the province of Palermo have trapezoidal boards and a predominantly yellow background with geometric decorations. The paintings remain in the naïve style typical of the carretto siciliano, with two-dimensional perspective and are chivalrous or religious-themed.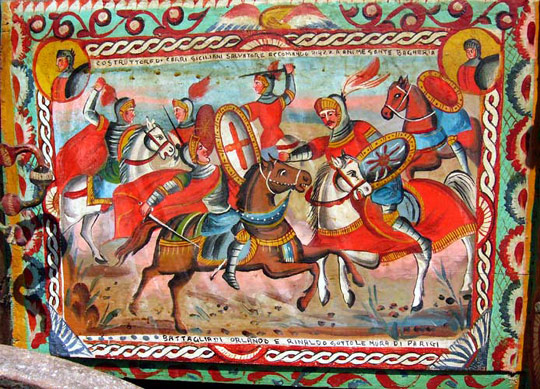 Those made in Catania have more rectangular boards. The background is red (like the lava of the Etna) and the carvings and paintings are more elaborate and refined, often (in the more modern productions) with a three-dimensional perspective. The palette of colors is also richer.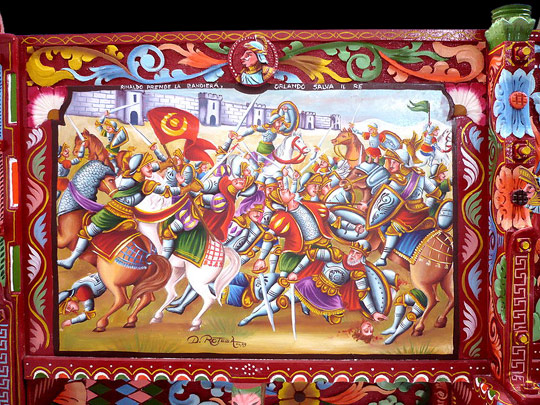 Less known is the Vittoria style, which like the Catanese style has a red background, but with much darker colors and a more precise brush-stroke, while the Catanese brush style is more soft and shaded.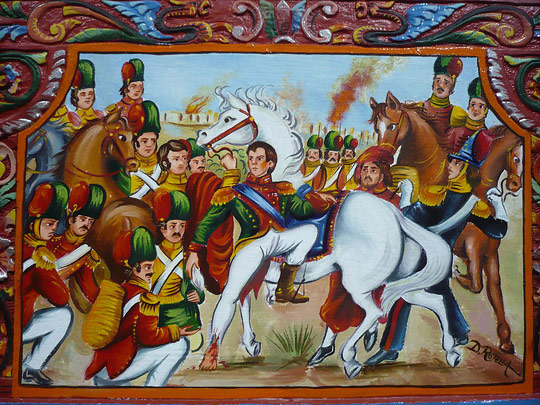 There is also a distinctive style of carretto from Trapani and Agrigento, but these are less common.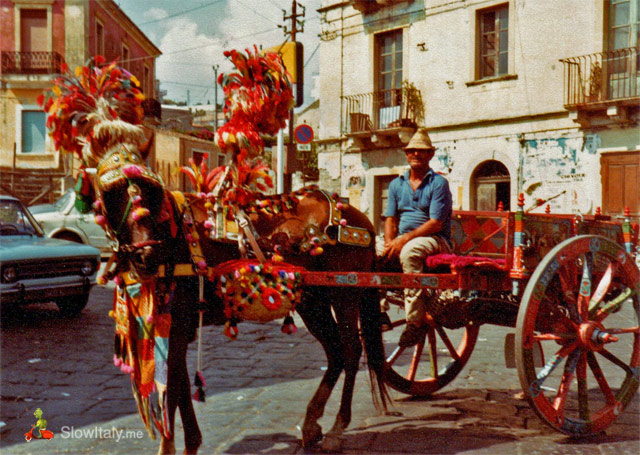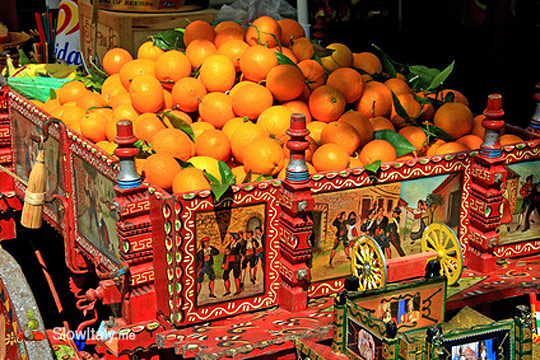 In use since the early 1800s, the carretto siciliano reached their peak of popularity in the 1920s, when many thousand colored the streets of the island. The Sicilian carts were originally used for hauling miscellaneous light loads, such as wood, produce, grapes to make wine, and occasionally people.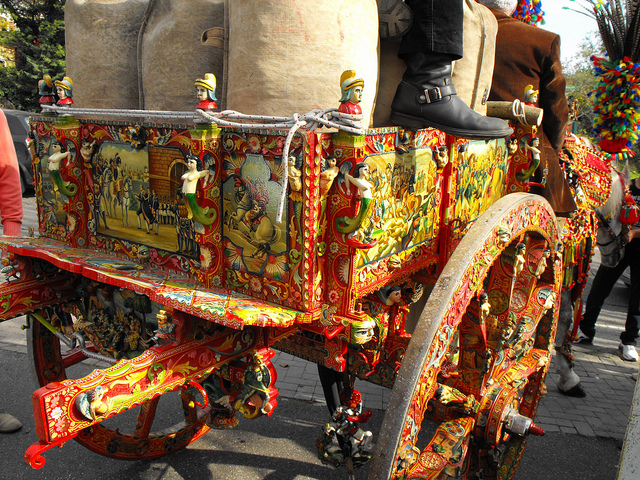 Today this means of transportation is on the verge of extinction, but they live on in festive occasions such as weddings and parades. However, the traditional working-style carretto continues with small, three-wheeled motorized vehicles (motoape, nicknamed apino siculo) painted in the traditional way of the Carretto Siciliano.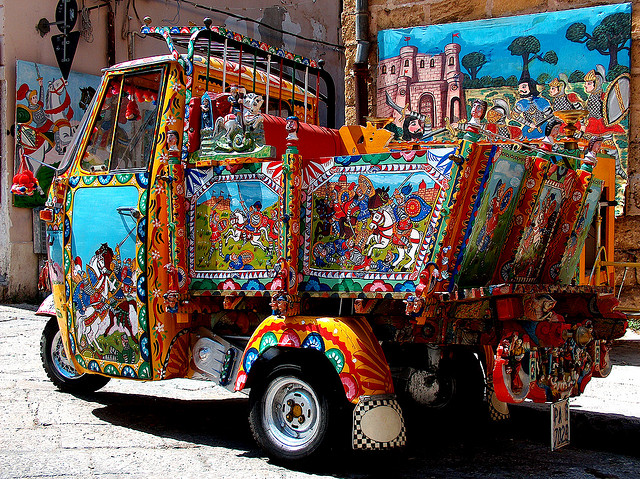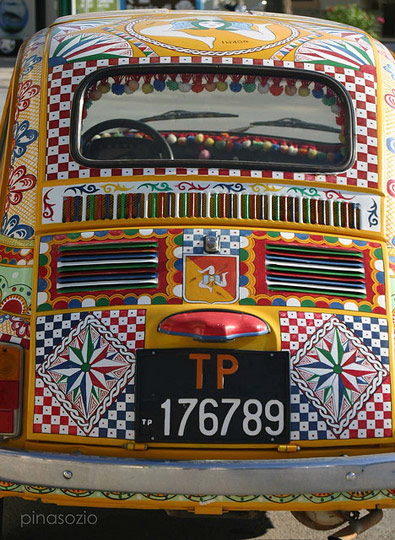 Miniature carts are often sold in Sicily as souvenirs. There is also a museum dedicated to the Sicilian cart (Museo del Carretto Siciliano) in Terrasini, in the province of Palermo. Annual processions dedicated to the carretto siciliano take place in Canicatti, Vizzini and Trecastagni once a year.

You might also like:




Secret and unusual Sicily: 10 sights and towns off the beaten path
Camilleri's Sicily from Siracusa to Agrigento: in the footsteps of inspector Montalbano
Photo credits (top to bottom): Sicilian cart parade by lemmingsolution; Sicilian cart by Cri's pics; Sicilian cart detail by Samuele Ghilardi; Sicilian cart horse by Danilo; Sicilian cart with tourists by Samuele Ghilardi; Carretto Siciliano detail by Lemming Solution; Sicilian cart detail by Roberto Pasini; Sicilian cart with flags © MacX/Fotolia; adorned horse © Slow Italy; Sicilian cart of the 1970s © Slow Italy; Sicilian cart with oranges © leospata/Fotolia; Sicilian cart by Missuale; Sicilian motoape by Libera Strega; Sicilian cinquecento by payhere.