Carciofi fritti – Crispy coated artichokes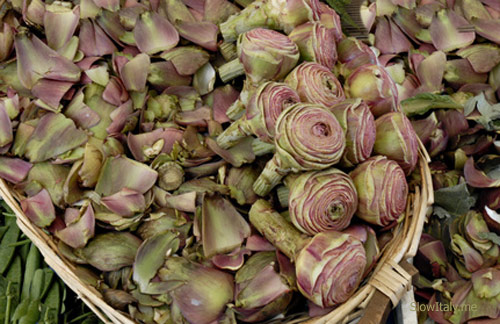 One of the reasons why I love Easter time is because this is when, traditionally, we have carciofi fritti. A very typical Easter lunch, especially in central Italy, is lamb with fried artichokes, but fried artichokes are also served as antipasti or stand-alone, not just at the Easter lunch, but as soon as the season starts and for as long as it lasts.
There are various ways to prepare fried artichokes. Each Italian family has about their own recipe for carciofi fritti and there are also various 'schools of thought' on how to prepare carciofi fritti in the right manner.
The differences lie in the following:
1. boiling or not boiling the artichokes before frying them;
2. letting them marinate in water with lemon juice before frying them,…or rubbing the artichokes eighths with lemon only after you have cut them;
3. using a batter made of eggs and flour, or alternatively, dip artichokes separately in eggs and flour without previously mixing the two ingredients into a batter.
4. if you don't use the batter method, then there are still two different schools of thought: first dipping the artichokes eighths in the eggs, then the flour, or… first dipping them in the flour, then the eggs.
That's about all the different variations you can find for such a simple recipe. No wonder fried artichokes can taste so differently depending on where you eat them!
Now, here is our recipe:
Ingredients:
6 carciofi Romaneschi or baby artichokes (these are artichokes without choke)
3 eggs
1/2 a cup white, all-purpose flour or maïzena
salt
a lemon or two
Preparation: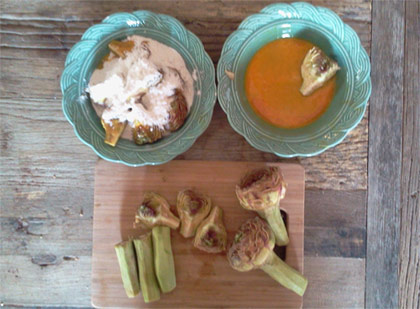 1. Discard several layers of leaves and cut off the tip of the remaining leaves. Remove everything that still seems fibrous on the side (see the two photos above). If you are using carciofi Romaneschi you will find there is usually no choke to be removed. If you do see some, cut it out with a knife with a circular movement going from the top to the center after you have cut them in eighths.
2. Remove the stems and cut the artichoke in halves lengthwise, then again to obtain quarters and then again, until you have 8 pieces. Do the same for the remaining artichokes.
3. Rub the artichokes generously with lemon quarters. This not only adds a nice, slightly acid touch, but also prevents the artichokes from turning black before you fry them.
4. Dip them first in the beaten eggs, allowing excess to drain off, then in the flour, turning to coat. You may also do the opposite as we explained above, but just know that by doing so the fried artichokes will have a complete different taste and appearance. We definitely prefer the first option.
5. Then simmer artichokes in oil, gently stirring occasionally, until tender. How long that takes will depend on the temperature of the oil, the quality of the artichokes and the quantity of artichokes fried at once. On average I would say about 10 min. If you use good quality artichokes there is no need to boil them before, and doing so might, in my opinion, even ruin them. They should remain slightly 'al dente' inside the crispy crust.
6. You can also fry the stems (separately because they will require less time), after you have removed the most fibrous parts.
7. Sprinkle with salt and eat immediately!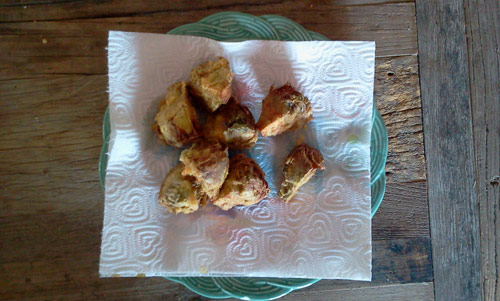 Buon appetito !!