Slow Ski is the latest trend on the slopes in Italy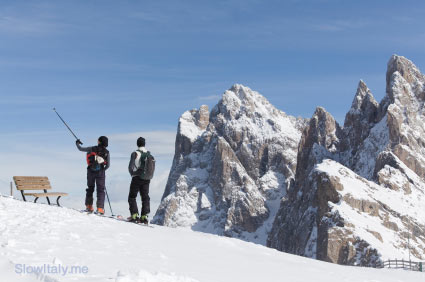 (updated December 2013)
Slow Ski is a new (or long-forgotten?) way to enjoy skiing which is all about taking your time and savoring the moment. While skiing is often associated with speed and performance, Slow Ski favors a tranquil, relaxed mode of skating, giving you the time to appreciate the beautiful mountain scenery.
Slowing down your pace on the ski slope is actually not as easy as it seems, both physically and mentally, you may well have to adapt your technique (and your adrenaline level!). However, many expert skiers say that a sign of great technique is precisely the ability to ski slowly with good form. While this certainly seems a wonderful idea, anyone who has skied on a crowded piste or steep slope knows that it is not always as straightforward to keep your tempo down amidst the other skiers and that people skiing slowly may actually be a danger to themselves and others.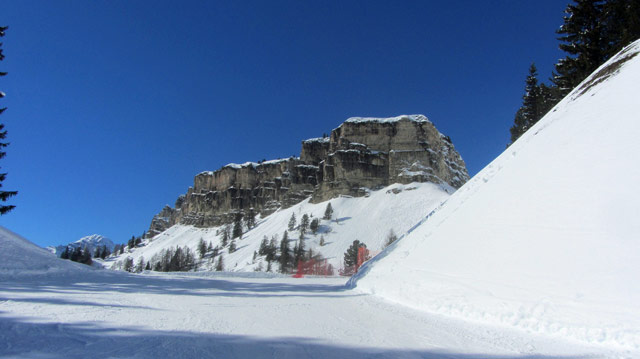 That is why the ski resort of Cortina has had the very smart idea to organize a special area for Slow Ski. That area, Faloria, has dedicated one of its most scenic slopes, the Vitelli piste, to slow ski. The magnificent scenery and slow mode of skiing encourages frequent stops along the piste allowing you to admire the beauty of the Dolomite peaks.
This slope was not chosen just randomly. Vitelli is the historic track which hosted the Giant Slalom races during the 1956 Winter Olympics in Cortina. It is fun and varied, surrounded by breathtaking nature, and far away from mountain huts and lift facilities (read: the crowd!).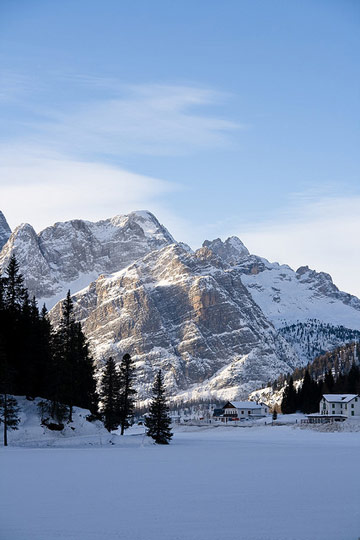 A relax area has been organized at 2150 m altitude, with benches where skiers can enjoy the magnificent views of the majestic Mount Cristallo and the beautiful Lake Misurina, with the legendary Three Peaks, in the background.
The slope is divided into two parts; Vitelli Alta (upper Vitelli), a black level run, and the Vitelli Bassa (lower Vitelli), a red run of medium difficulty.

Photo credits (top to bottom): Relaxfoto.de/Istock; ChiefRanger; Davide Bedin.