Christmas celebrations and traditions in Italy
And what to see and what to do in Italy during the Christmas season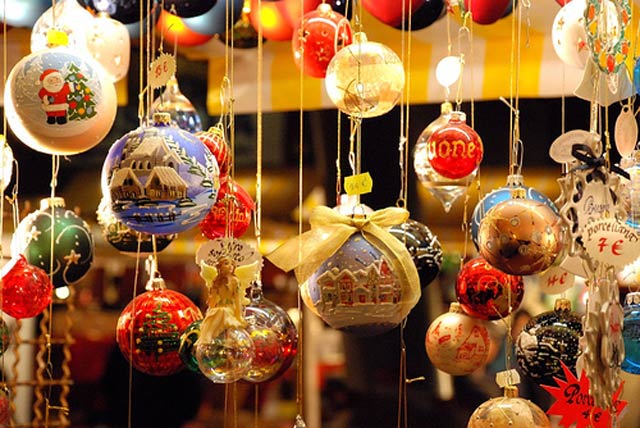 In Italy, Christmas celebration lasts about one month, starting on December 8th, the day of the Immacolata, on which traditionally the presepe (Nativity scene) and the Christmas tree are set up, and lasting until the Epiphany, celebrating the visit of the Magi to the infant Jesus, on January 6th.
December 8: Setting up a Christmas tree and the Nativity scene
Traditionally the Christmas tree and Nativity scene are set up on the Feast of the Immaculate Conception on December 8. The popular custom of creating the Nativity scene during Christmas actually originated in Italy.
On December 24, 1223 St. Francis of Assisi commissioned Giovanni Vellita, a villager of Greccio, in the province of Lazio, to create what was to be the first Nativity scene in the world. It was created in one of the caves of the local monastery. A layer of straw had been spread on the stone floor and a primitive crib had been placed in a corner. Around it were a donkey, an ox and a dozen of peasants. From that moment on, the creation of the figures or pastori became a very popular genre of Italian folk art.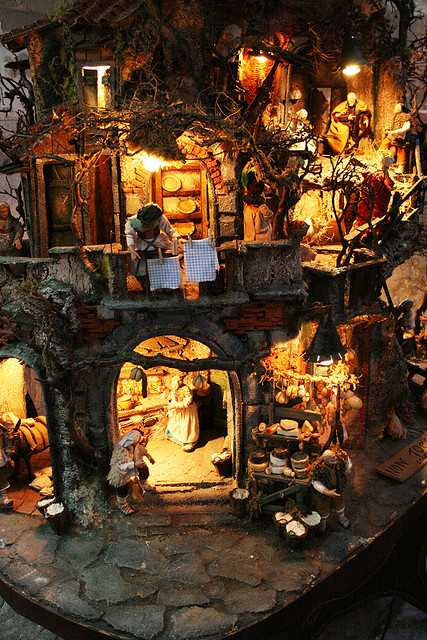 Today, the Presepe (Nativity scene) consists of small, hand-carved figurines, usually made in the region of Naples, set in scenes representing Jesus' birth. However, the Italian presepe often consists of more than just a traditional nativity crib with the Holy Family and baby Jesus in the stable. Italian families usually build an entire scene or village consisting of hand-made houses, bridges and shops, using cork to create mountains, to which electrically powered wells and lights are added. Shops and stalls with their accessories, as well as household items, exotic animals and even caricatures of politicians and celebrities are common add-ons. Baby Jesus is only added to the scene on Christmas night. It is one of the most beloved and enduring symbols and activities of the Christmas season.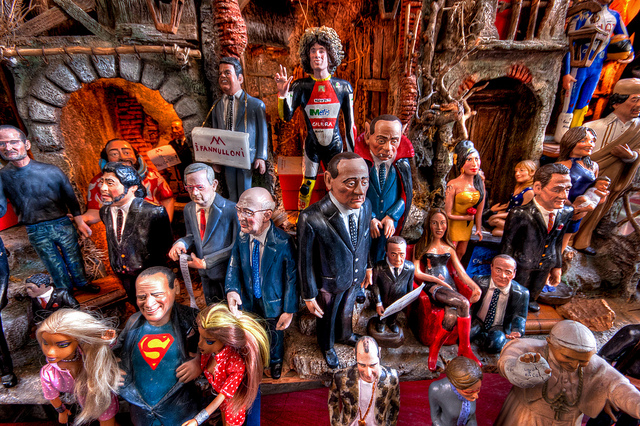 See also: Living nativity scenes in Italy
December 13: Santa Lucia
Santa Lucia is a Catholic celebrated holiday with roots that can be traced back to Sicily. It is celebrated in many parts of Italy, especially in Naples, Sicily and in various regions of Northern Italy.
See: Santa Lucia celebration in Italy.
December 24: La Vigilia
In Italy, Christmas Eve is usually a family gathering. Traditionally, the cenone (Christmas supper) is served at home and children recite little verses for their parents and family. Presents are given on
Christmas Eve or on the 25th.
The menu of the Cenone varies from region to region, but traditionally it excludes meat items and is based mainly on fish. For dessert, there are all kinds of fancy holiday breads, such as panettone, filled with raisins and candied fruits, and such sweets as cannoli, a cheese-filled pastry, and many other delicacies.
Family parties continue until almost midnight when everyone attends church services and worships.
December 25: Natale
The Christmas Day dinner is THE most important Christmas family tradition in Italy. While Christmas Eve's supper is a meatless meal, on Christmas Day it is permissible to eat meat. Usually it will be stuffed cappone (capon) or tacchino, or mixed roast or roast beef. Panettone is served as dessert or as breakfast. Another famous Christmas bread is pandoro which originated from Verona. The Torrone (nougat), with honey or chocolate almonds or pistachios, is the most typical of the Christmas sweets.
See also: Italian Christmas food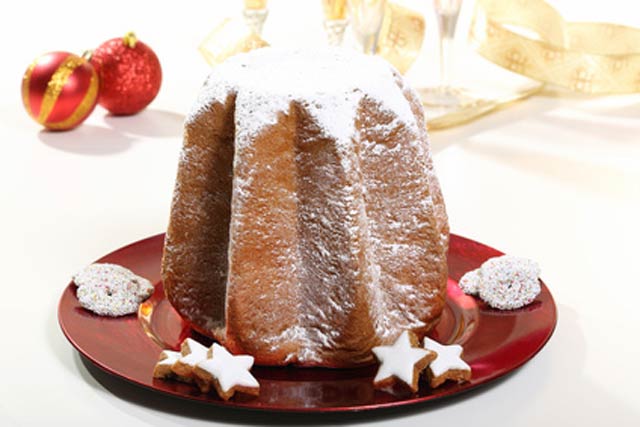 December 26: Santo Stefano
Saint Stephen's Day, the day after Christmas and the Feast of the first Christian martyr, is a public holiday in Italy.
January 6: La Befana or Epifania
Although Babbo Natale (Father Christmas) and giving gifts on Christmas are becoming more and more popular, traditionally, children had to wait until Epiphany to receive their presents. See: la befana.
What to do and see in Italy during the Christmas season?
Naples, Rome and Torino are wonderful cities to visit during the Christmas season. Piazza Navona in Rome hosts a beautiful Christmas market and Saint Peter's Square in Vatican City is where the popular midnight mass is given by the Pope from Saint Peter's Basilica.
If you are in Naples, you should definitely visit the famous street of the nativity scene artisans, Via San Gregorio Armeno, in the historic center of the town. It is here that many of the Nativity scene figurines sold all over Italy are being handcrafted.
The old tradition of living nativity scenes is still very present in various parts of Italy. See: Living nativity scenes.
Then you have also the enchanting Christmas markets of South Tyrol and other famous Christmas markets in Italy.
And then there also also, of course, the fabulous ski resorts in the Dolomites and the Italian Alps
Italian Christmas Trivia
Since 1981 Italy hosts the world's biggest Christmas tree. It is a lighting illumination in the shape of a Christmas tree, installed annually on the slopes of Mount Ingino (Monte Ingino) outside the town of Gubbio, in Umbria. The tree consists of 3000 multi-colored lights creating a shape of 650 metres (2,130 ft) high and 350 m wide. A group of volunteers, the Alberaioli, donate free time for about three months every year so that on December 7 Gubbio's Christmas tree can illuminite the Umbrian landscape. In 1991 the Guinness Book of Records declared it the "World's largest Christmas tree". Since 2010 electricity for the Christmas tree lights is generated by a photovoltaic system.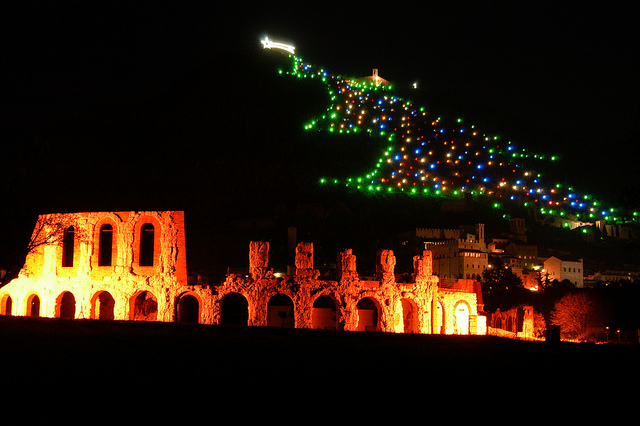 See also:
Top 8 Christmas markets in Italy
Italian Christmas food
Top 5 Christmas markets in South Tyrol
Italy in December
Santa Lucia in Italy
Living nativity scenes in Italy